Furniture Configurator
e-Commerce
Configurator
WebGL
Shop
System4 is a flexible modular furniture system, made of high-quality steel, which belongs to the Home & Living Division of the family-owned company Streng Plastic AG. The company specialises in the production of individual office and home furnishings. Given the unlimited possibilities of combinations, System4, Divine and redPlant have developed a 3D product configurator, which makes it even easier to assemble and purchase your furniture through the System4 Online Shop.
Unlimited combinations
Thanks to the modular assembly of basic elements and the unlimited options, the perfect furniture system can be built for each type of chamber and room size. This creates a variety of different pieces of furniture with the maximum individuality for the living and office area.
Aside from the classical storage possibilities in drawers or behind doors, the desired piece of furniture can also be equipped with open or fully closed elements. Especially interesting for commercial use are the elements including a brochure rack and hanging file folder.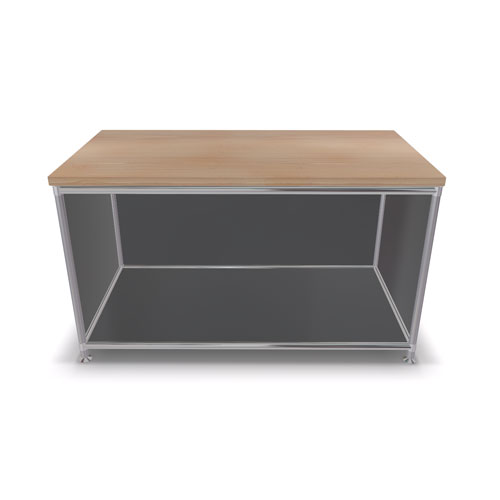 Embellish your piece of furniture with a solid wood cover plate in the colours oak or walnut.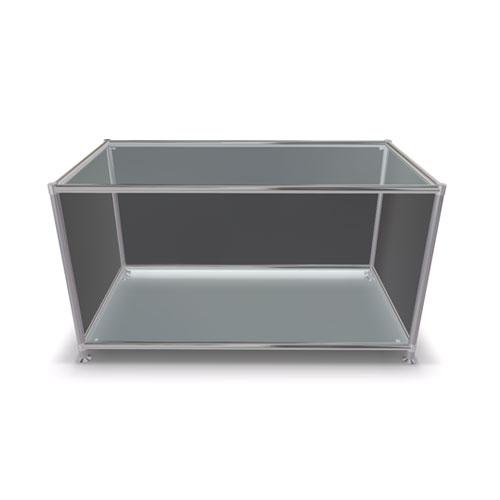 Choose between a clear or frosted glass type and use it for the bottom or top.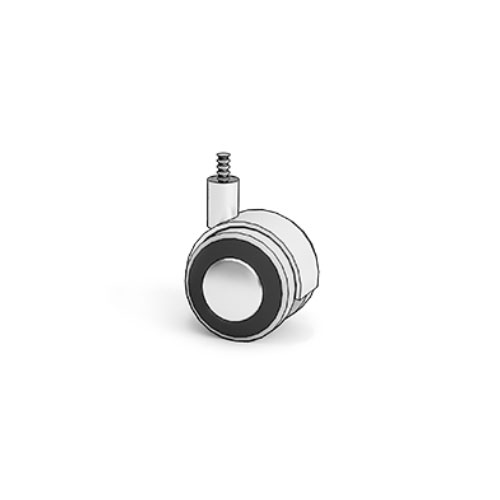 Switch between soft or hard rollers depending on your type of floor or simply use levelling feet.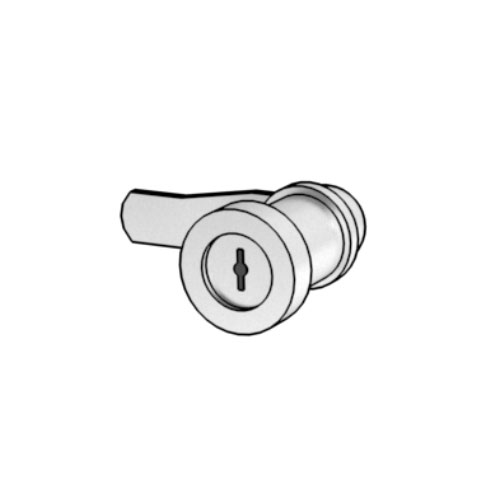 Open your furniture system with a handle or grip hole or add some safety by including a lock.
Double and corner modules
Die seit Anfang 2020 neu integrierten Doppel- und Eckmodule erweitern die bis dato verfügbaren Konfigurationsmöglichkeiten durch eine weitere Dimension. Neben der freikonfigurierbaren Breite und Höhe, kannst Du von nun an auch ums Eck bauen und dein Möbelsystem frei in die Tiefe konfigurieren. 
Less is more
To build your unique piece of furniture efficiently with as few clicks as possible, an interaction like copy & paste was implemented. Thanks to so-called GPU Instancing, steady performance is guaranteed even when building large furniture.
According to plan
The conception and implementation of the configurator was made to only create furniture that can actually be produced. Every restriction is integrated into the built-in logic and guarantees the manufacture of your desired product based on your configuration.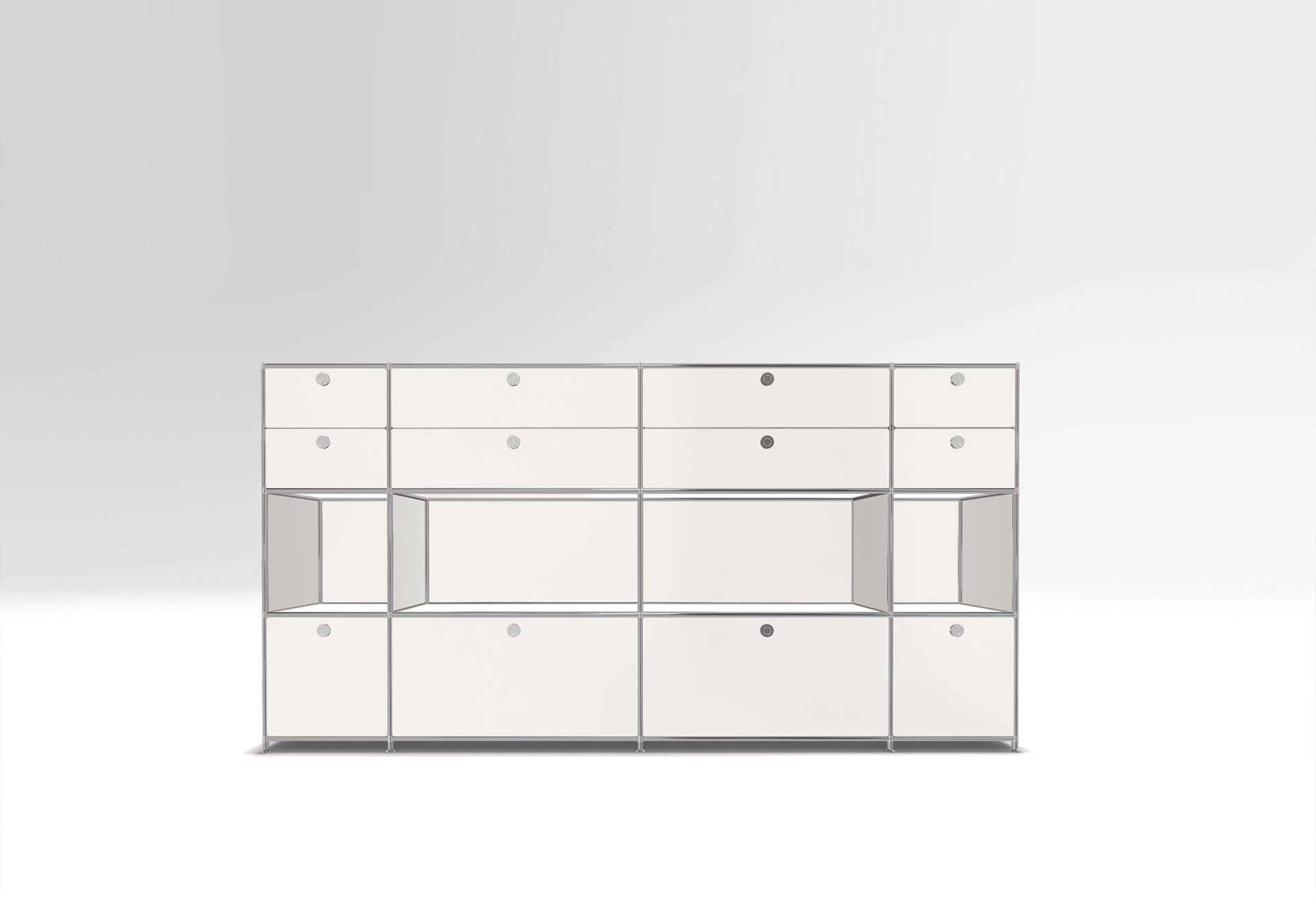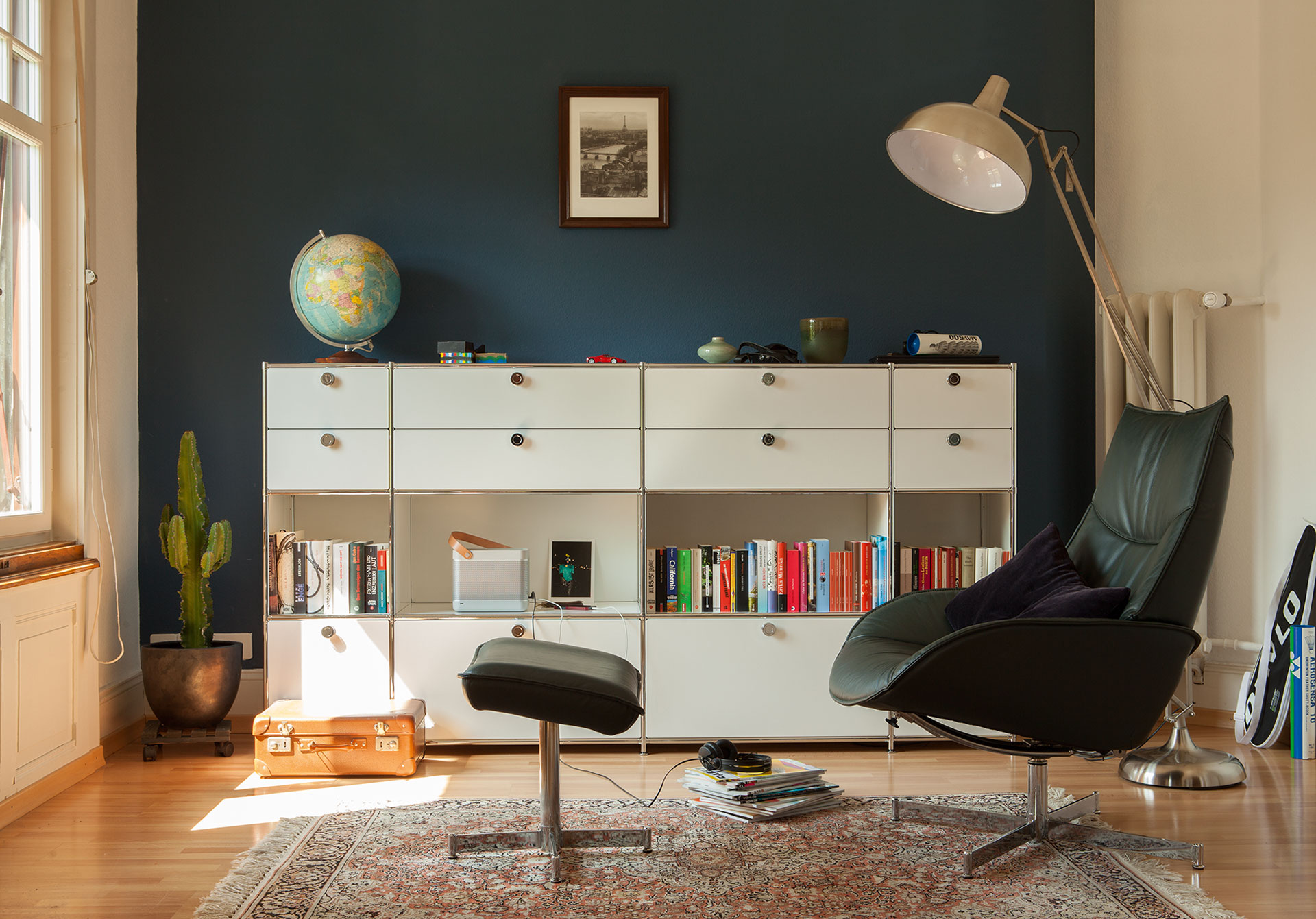 Suits me
During the configuration of your piece of furniture, you can display the outside measurements of the whole system as well as the measurements of each element at any time. This gives you control of whether your desired furniture is already too big or can still be extended.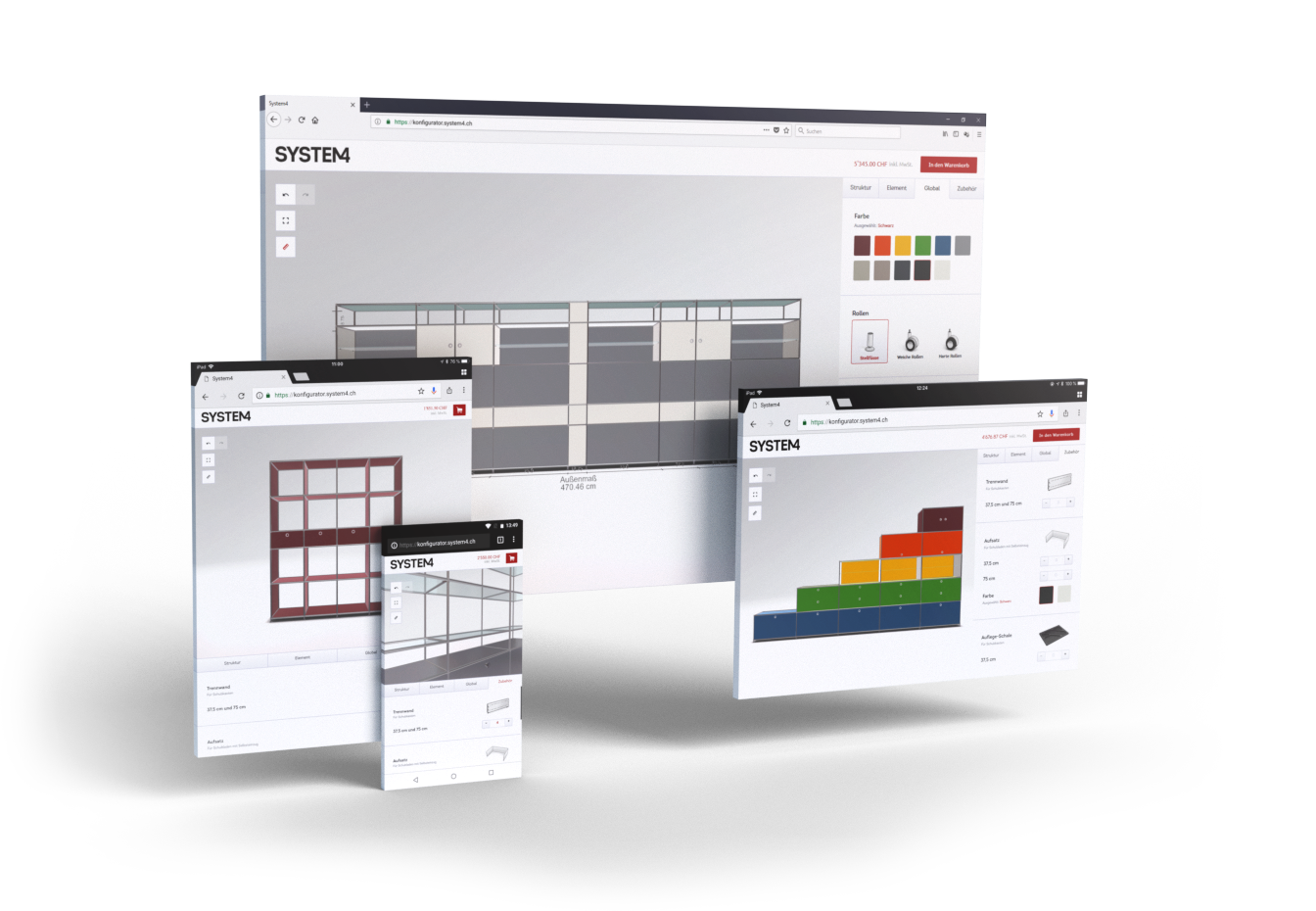 On every system
Easy handling and responsive design allow you to configure your furniture on the way. No matter if on a tablet, smartphone or desktop PC – the configurator adapts to all display sizes and relies on an intuitive user interface.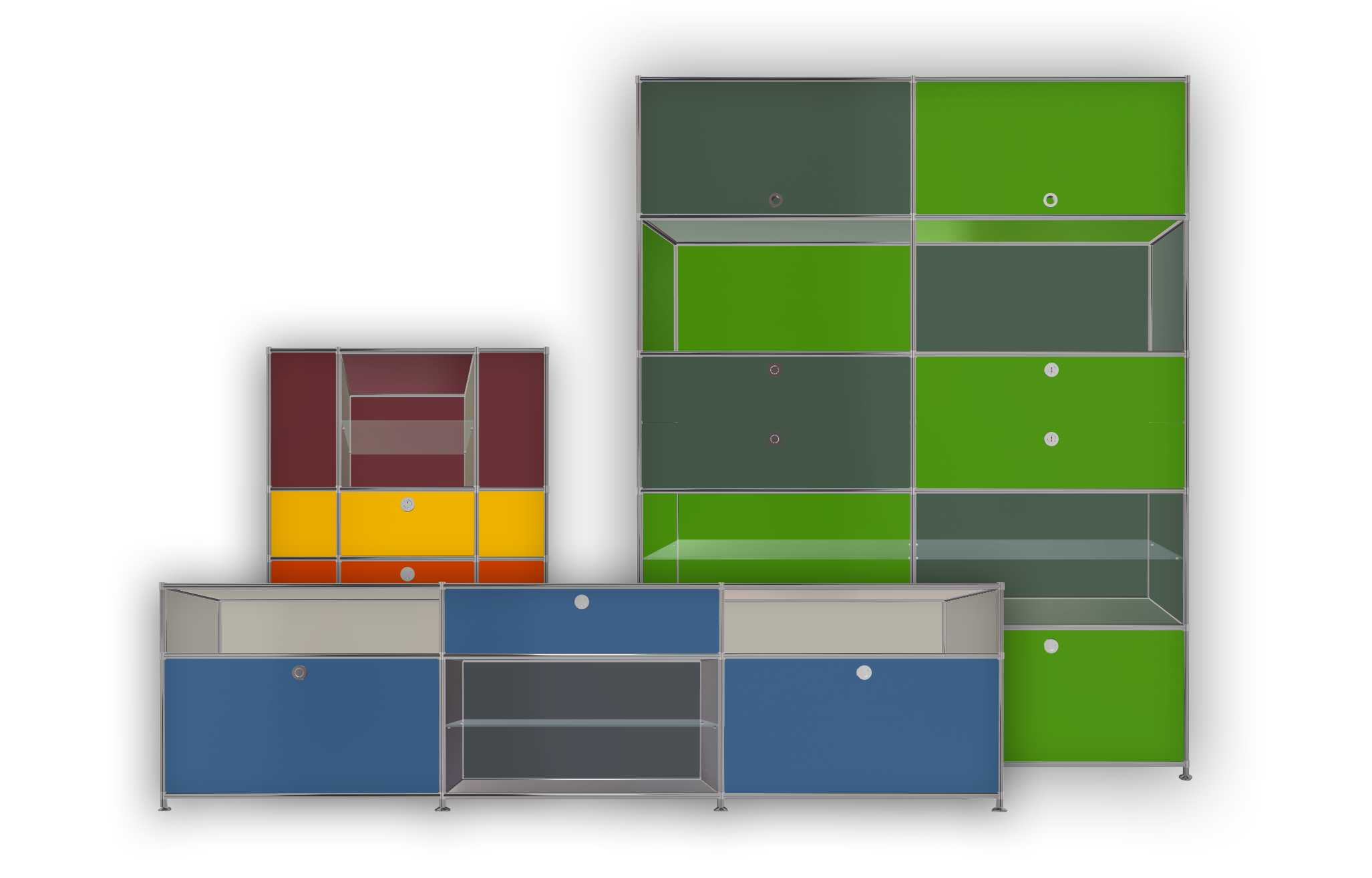 Pim it up!
All relevant product information is retrieved in realtime through the interface of a central PIM (Product information management system). Each change of configuration updates the total price and the corresponding parts list. This way, they are available at any time in the configurator, data sheet as well as in the online shop.
I'll buy it
Are you satisfied with your configuration? You can purchase your piece of furniture in the online shop via the interface of the shop system Shopware and pay with the available payment methods. A new product is generated dynamically in the online shop through the mentioned interface including a proper webpage with all product details.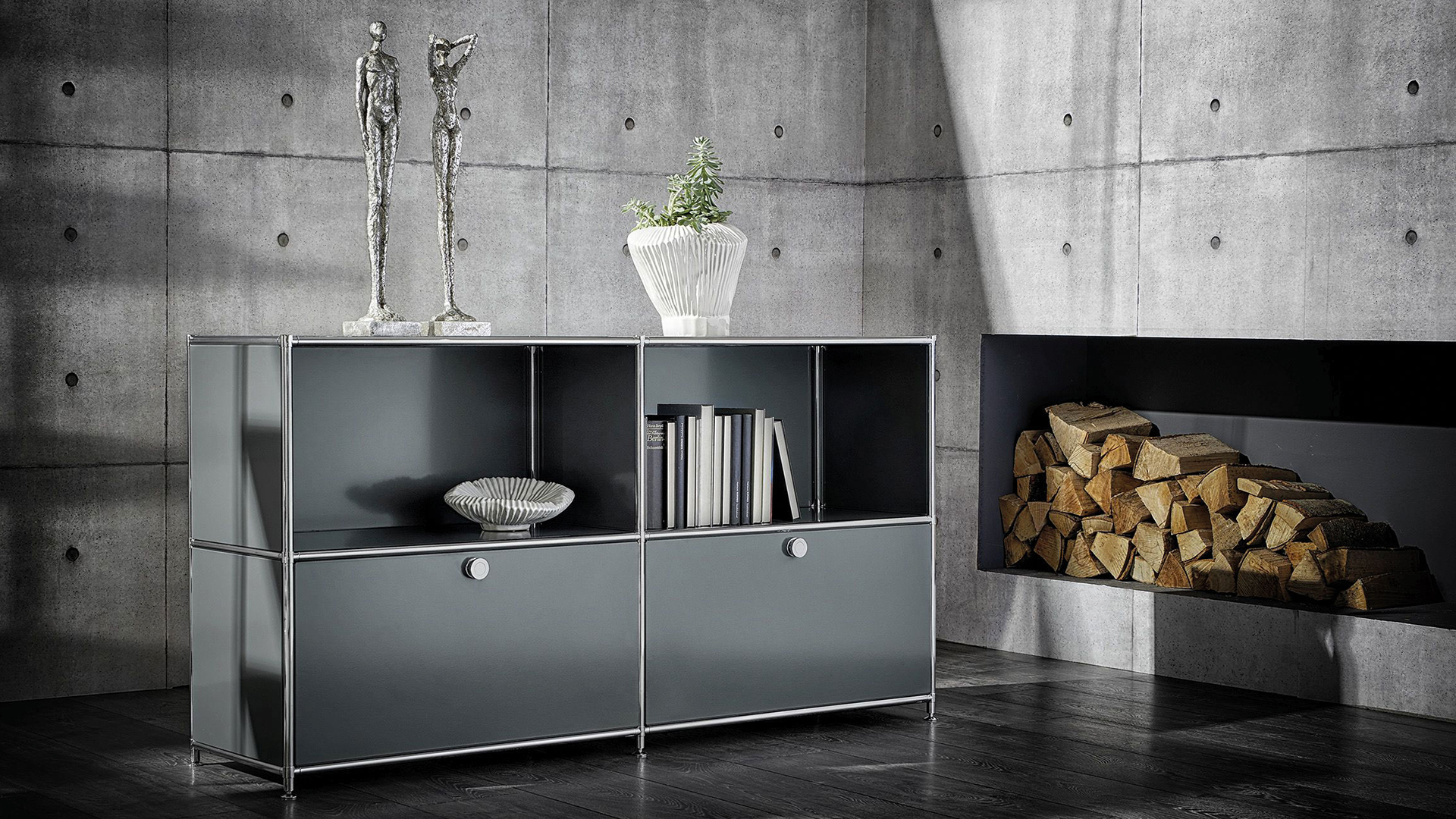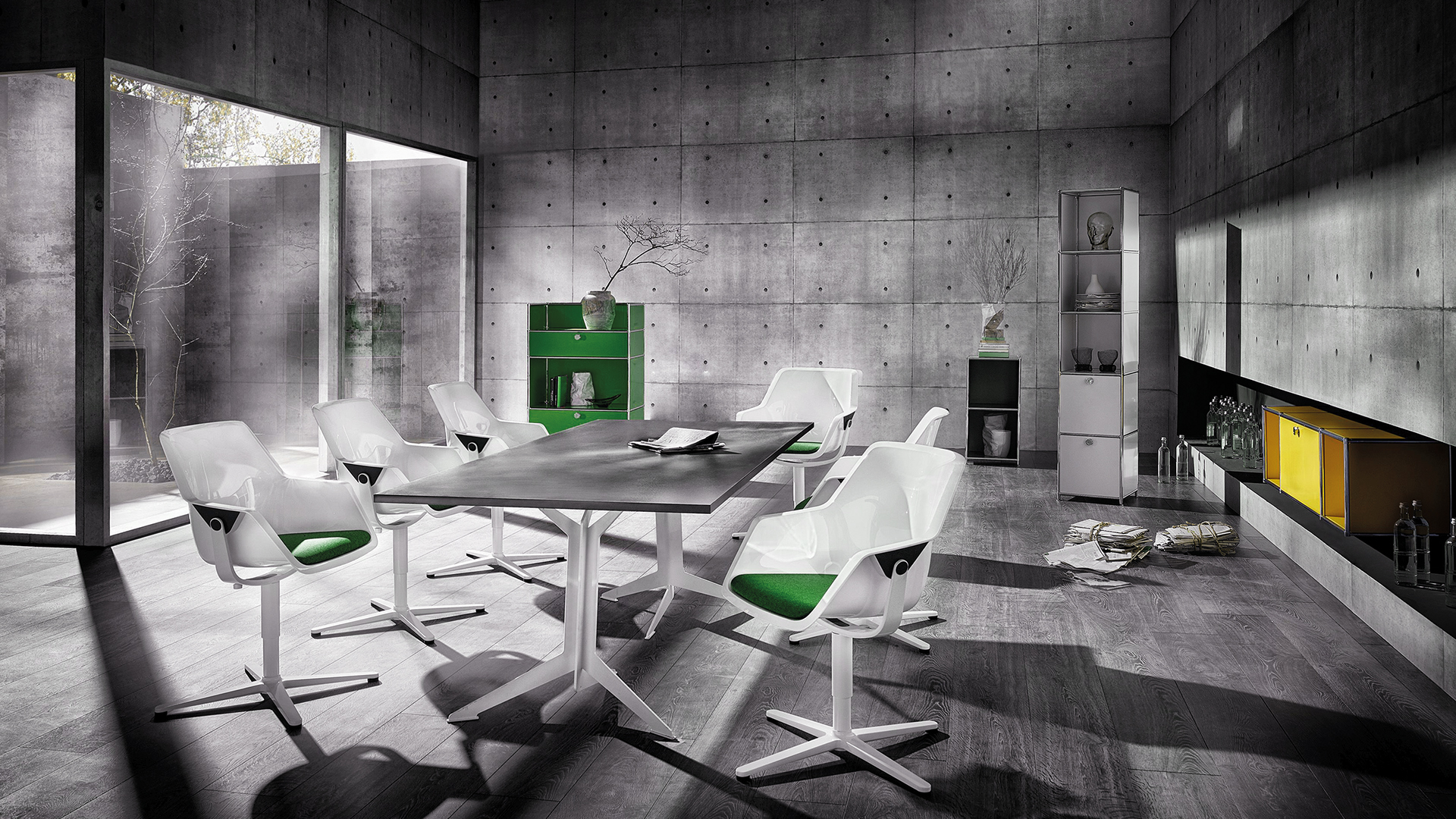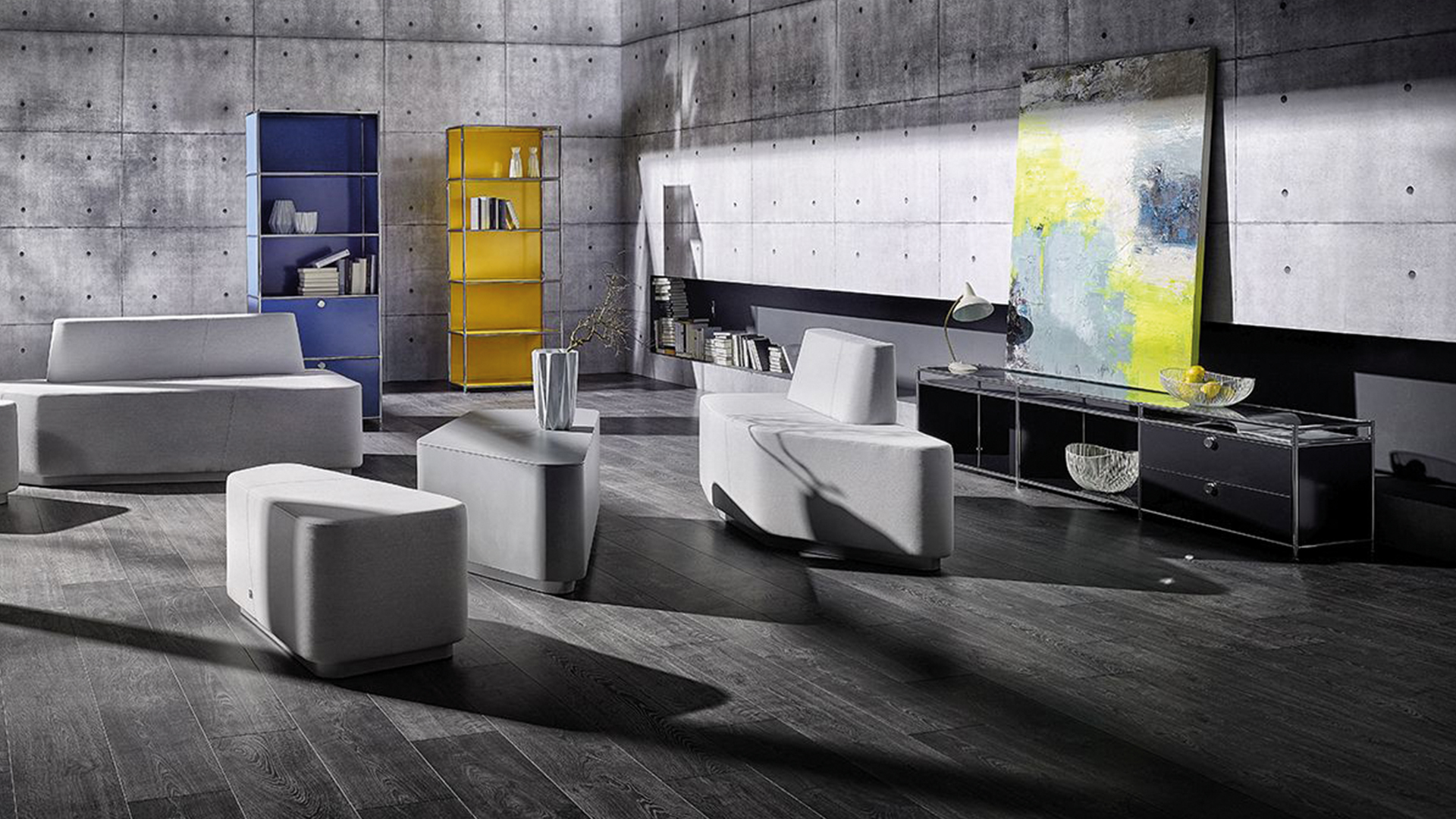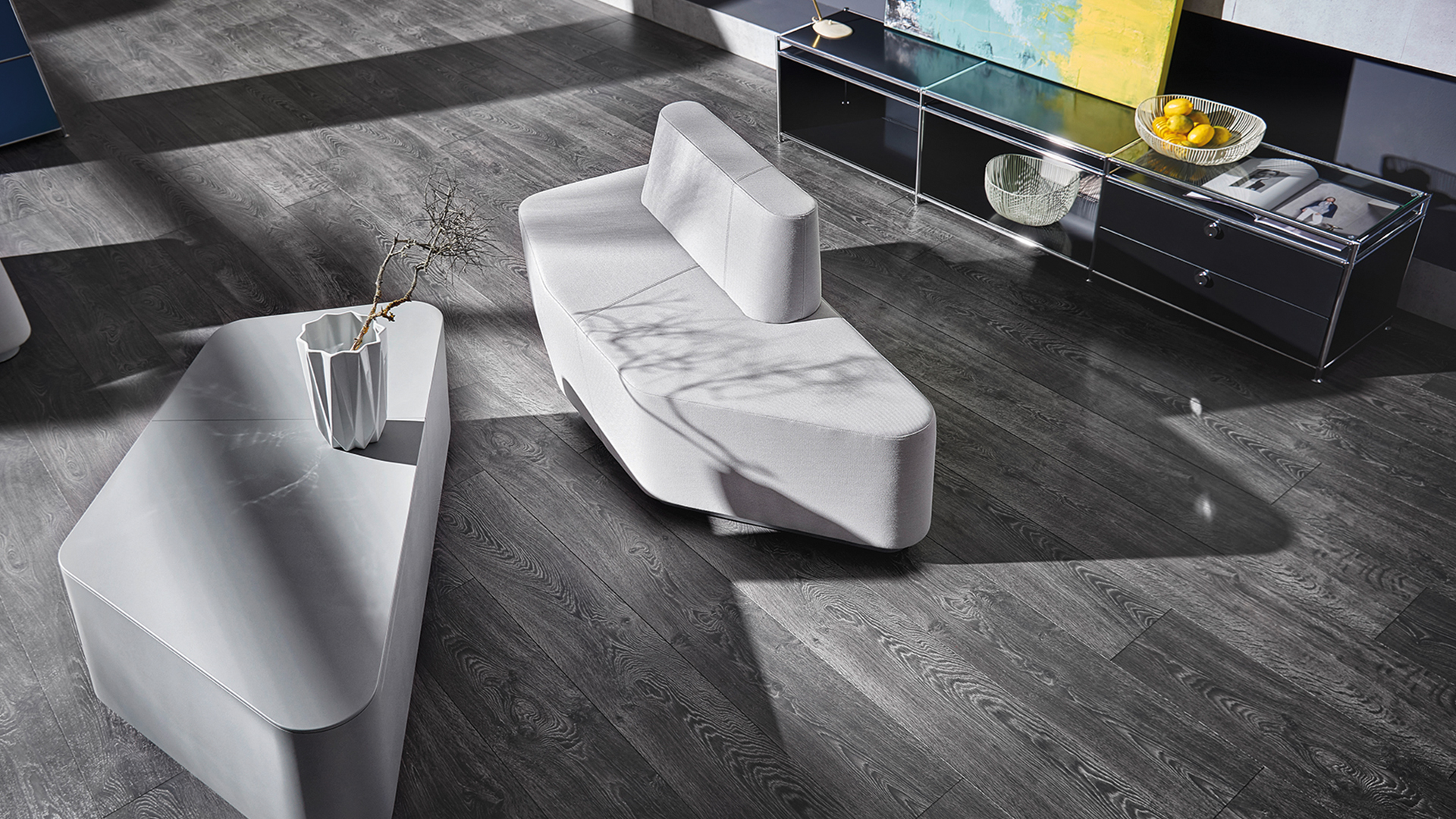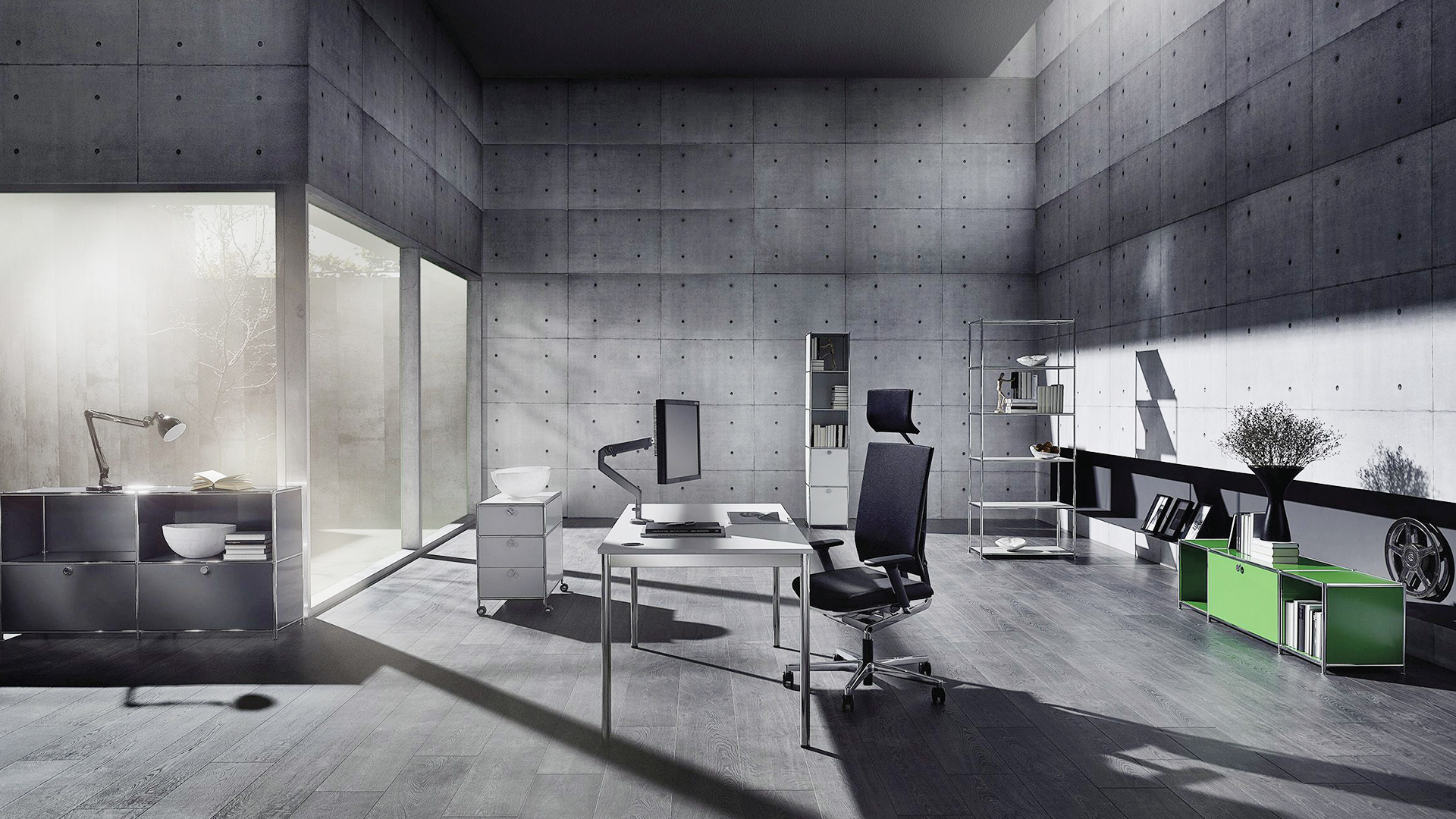 All clear
You can download a data sheet including all important data about your furniture on the dynamically created product webpage. Each configuration is assigned an individual ID, which gives the possibility of retrieving it again at any time.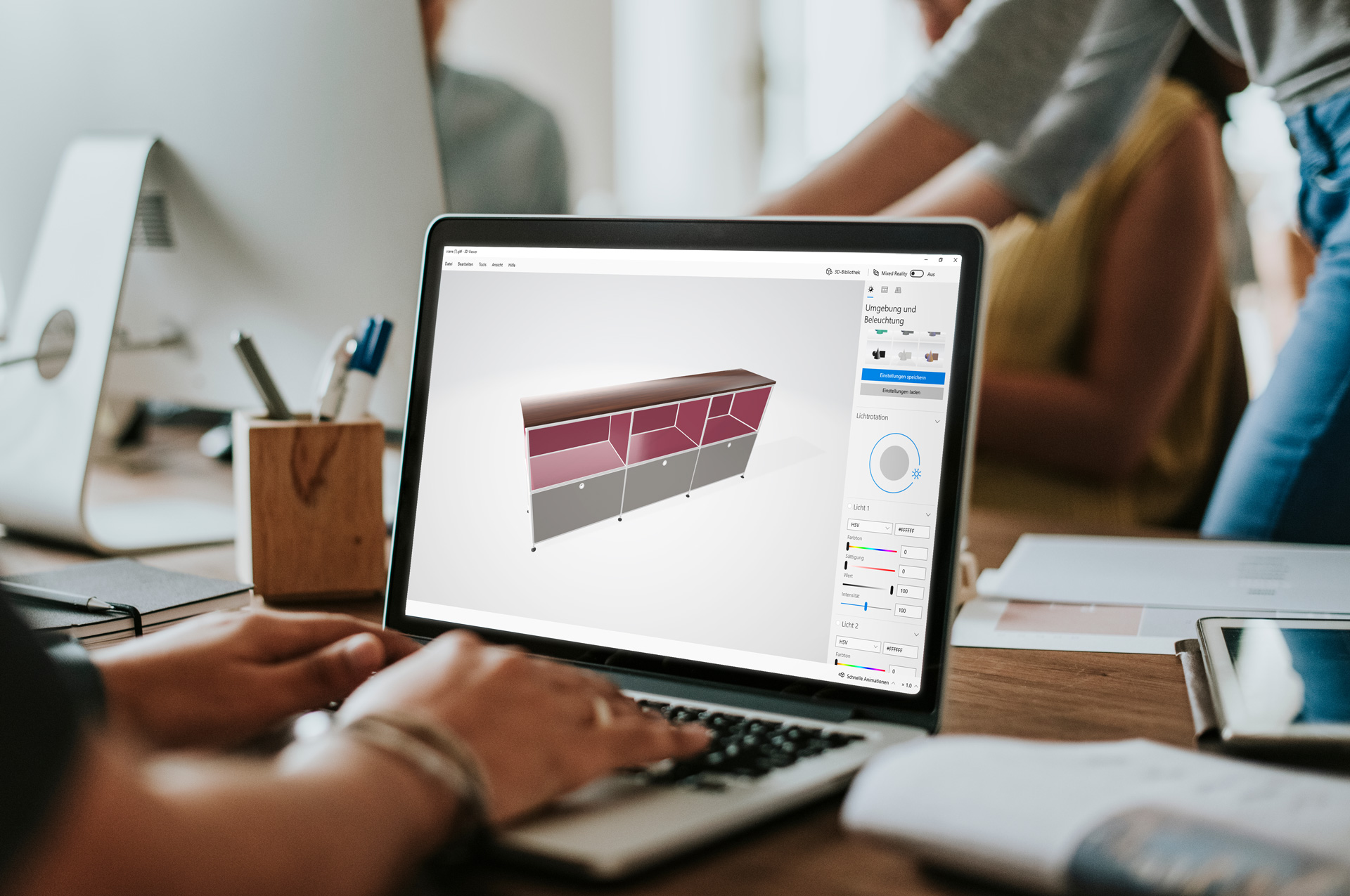 GLTF-Export
The glTF-export allows you to directly download your individually configured piece of furniture including materials. The file can easily be opened by different 3D viewers and 3D programs. Configurations can easily be downloaded by planners, architects or interior designers and integrated and edited in their planning.
PBR materials
Since the beginning of 2020, the materials in the configurator shine physically correct. Due to an upgrade to PBR materials, the models and materials can now be displayed even more realistically. Another advantage is that the PBR materials can also be exported with the GLTF export of the configuration.
The configurator has been implemented in WebGL and is available on all common browsers without plugins.
The design of the application is responsive and therefore available on all common devices.
Each configuration is assigned an individual ID and can be retrieved again at any time.
With each change of the configuration the price is recalculated and displayed clearly.
All relevant product information is retrieved through the interface of PIM.
The interface of the shop system Shopware enables you to buy your unique piece of furniture.
An individual data sheet can be generated for each configuration.
If it can be configured, it can be produced. The configurator allows only valid configurations.