Vaillant Trade Fair Application
Trade fair
Unity3D
Multitouch
RadarTOUCH
Since 1874, Vaillant has given its customers "the good feeling of doing the right thing". At the world's leading heating expo ISH 2013, Vaillant had a 2000 sqm exhibit. In cooperation with rmh new media from Cologne, redPlant developed a concept for interactive highlight areas and implemented it. Consultants and visitors could use a multitouch display wall to experience Vaillant products from in the combined heat and power and heat pumps segments. 
Vaillant City
Different Vaillant devices have diverse functions and applications. Each device is associated with a certain place or part of town in the interactive presentation, to which the presenter can navigate using Multitouch. Detailed information on the individual topics can be displayed at these target points in the form of animations, device constellations, and labels.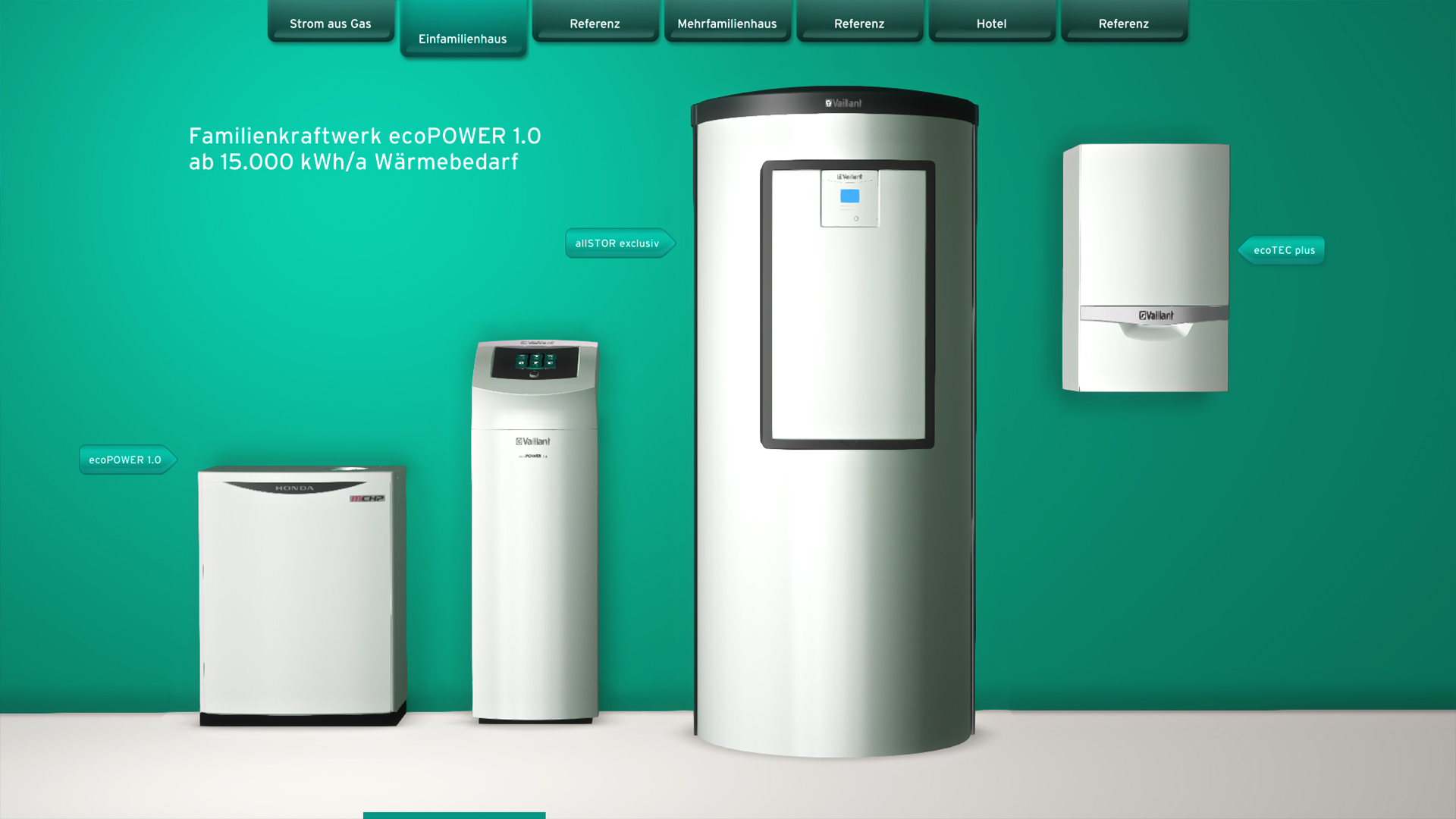 Device Rendering
The realistic presentation of the devices is the focus of the application. Advanced Shader allowed us to manipulate object-based light maps. Devices can be faded in and out including Ambient Occlusion without affecting the global light map of the scene.
80 Camera Flights
To navigate between the various topics, we generated automatic camera flights based on B-Spline Kurves. These automatic curves could be modified and refined as needed. 
Dynamic Environment
A dynamic change of day/night time and seasons lets devices react to environmental changes. This helps to explain different functions and applications. It is visually enhanced with effects like blueing of distant points, fog, or atmospheric scattering.
radarTOUCH
The interactive areas had a 10 sqm Multitouch wall. For touch recognition we used the invisible laser fan "radarTOUCH" . Interruptions of the radar were registered by the device and interpreted as touch events. This allowed for touch recognition across the entire surface.
Video Production
Detailed information on the topics can be accessed at the target points in the form of chalk animations on virtual blackboards.
The interactive Vaillant City was created with Unity3D.
Seamless transition between times of day and seasons.
The Application could be operated by several users simultaneously.