Exhibition Booth Configurator
e-Commerce
Configurator
WebGL
360°
BLICKFANG Messebau is your competent point of contact if you want to attract attention with a unique stand at your next trade fair appearance. With more than 20 years of experience in trade fair construction, BLICKFANG develops trade fair stands that meet your exact expectations - in design, functionality, and the statement to be made. With the 3D configurator developed by redPlant, BLICKFANG now gives you the opportunity to interactively plan your own trade fair stand.
Presets & Stand Types
Various presets of preconfigured exhibition stands are offered for a quick introduction to the configurator. You have corner, row, head and island stands at your disposal, which you can adapt to your desired dimensions in the next step.
By visual judgement
Drag & Drop interaction as well as interactive 360° camera control have been integrated for maximum configuration flexibility. A dynamic grid and precise selection help you to place furniture and all other stand elements accurately. A good scene must be an eye-catcher from every angle.
Move along!
All equipment is displayed in its real size in the configurator and thus gives a realistic impression of the finished exhibition stand. Whether furniture and stand elements can still be placed on the stand is visualised interactively using the grid. Even directly stringing furniture together is no problem.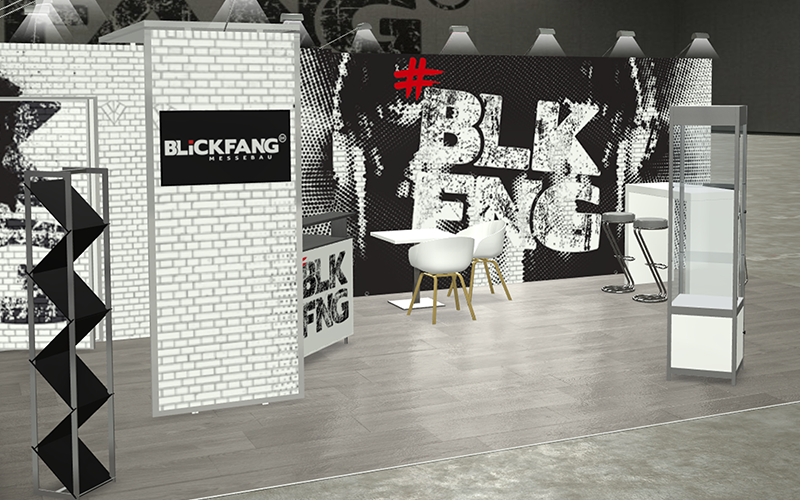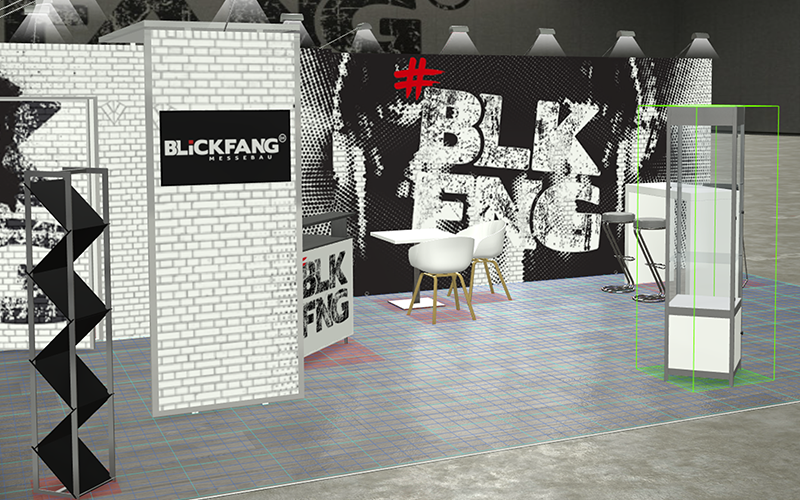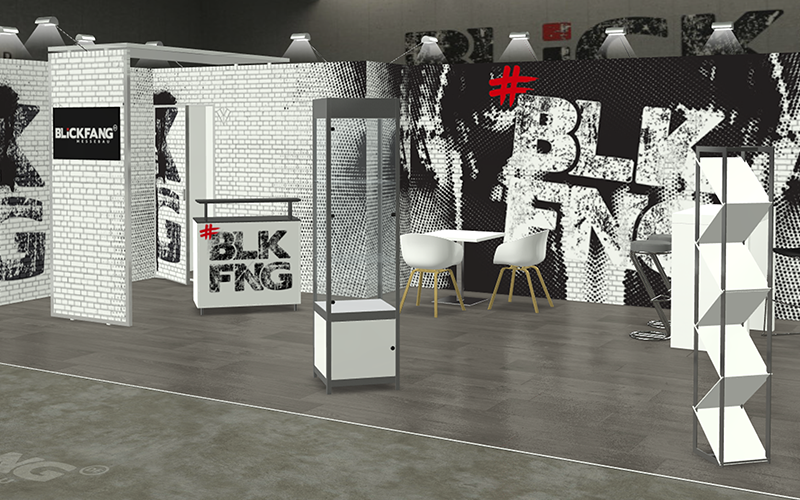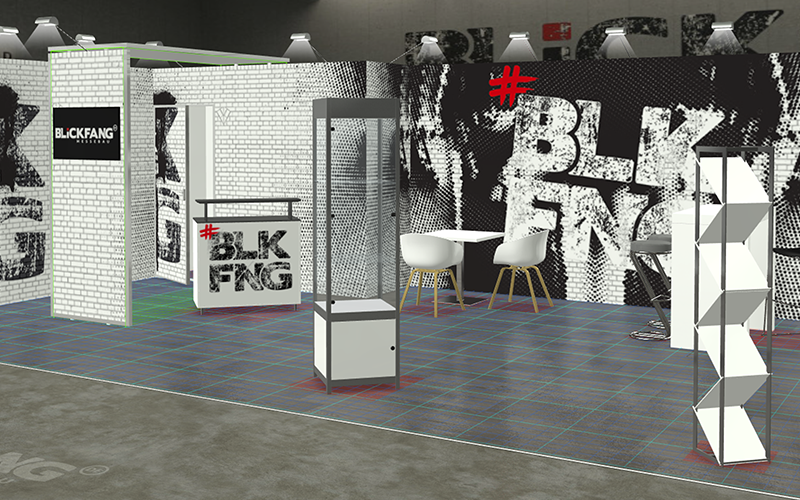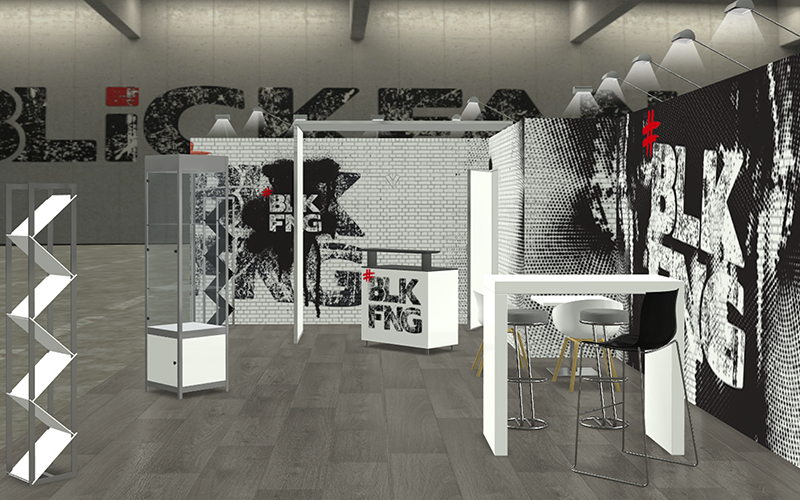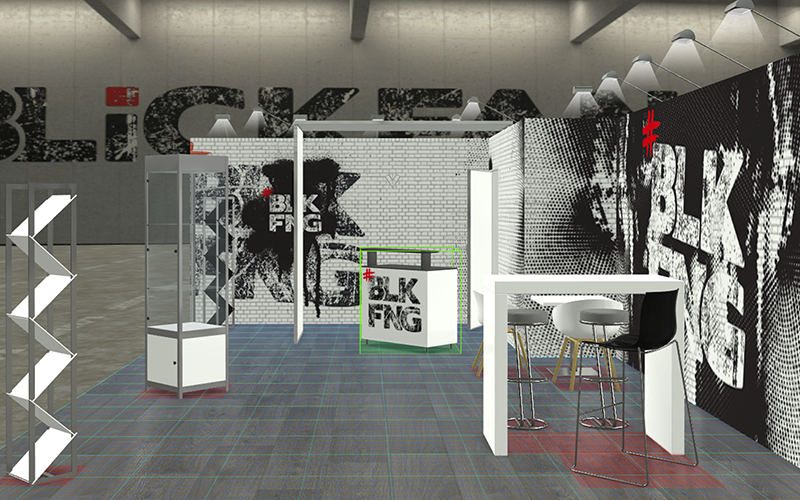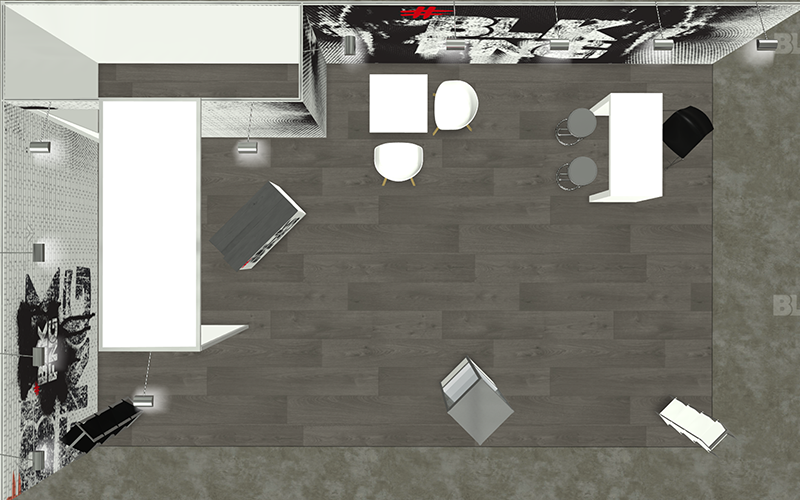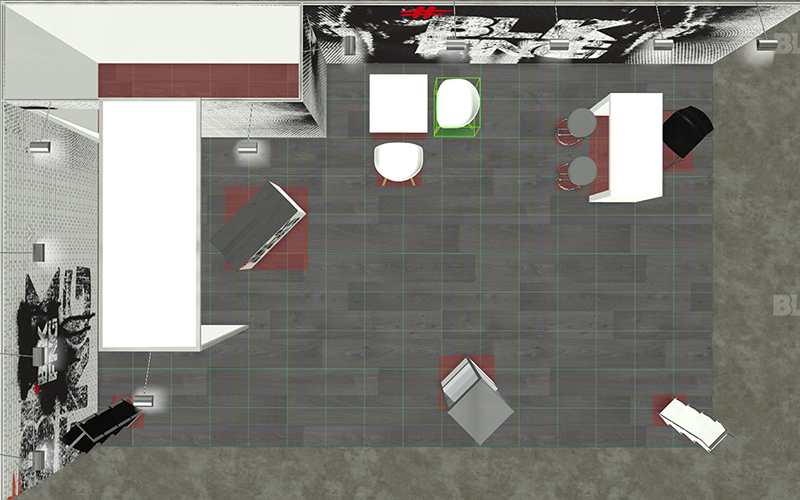 Adaptable?
Depending on the dimensions of your trade fair stand, you can choose between different cabin sizes with different door positions. To avoid confusion, only the current valid configuration options are displayed in the configurator.
More space for your creativity
By increasing the stand area, you can now give free rein to your creativity when positioning furniture, booths and double floors on 20 x 20 meters. But not only the stand area has been expanded for individual stand construction, but also the stand height.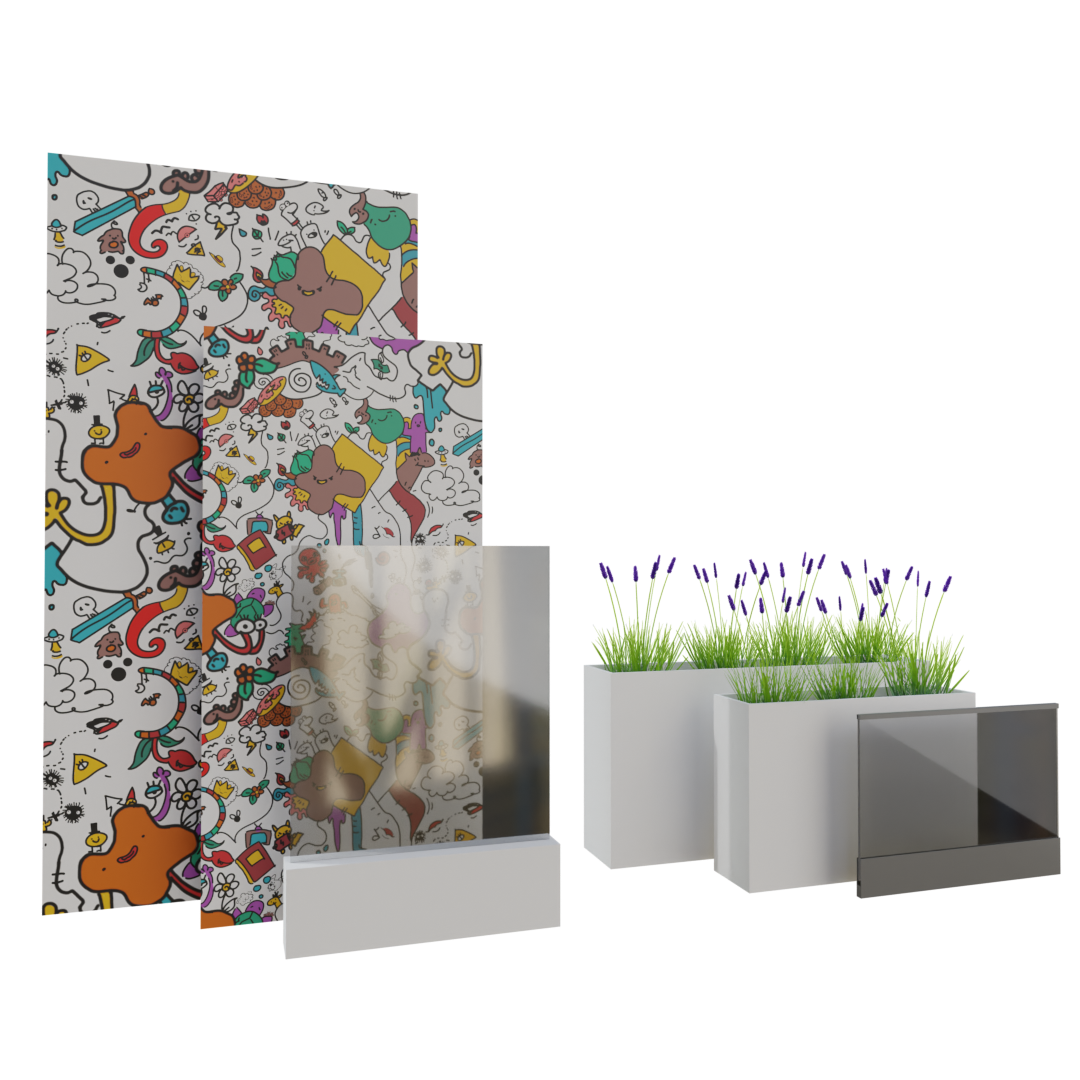 Keeping it in check
With almost infinite floor space, it can sometimes be useful to limit it. For this purpose, 2022 freestanding walls, graphic walls, glass steles and glass railings have been integrated into the configurator. The free-standing walls are available in single and double versions and can be individually configured in width and height as well as provided with graphics. The glass railings, on the other hand, simply line up several elements so that you can enlarge your railing. 
Convenient, even on the go!
The trade fair stand is configured and ready, but a new idea has spontaneously come up?
Thanks to the option of providing each configuration with an individual ID, the trade fair stand can be configured further anywhere, at any time. Whether on a laptop in the train or on the customer's tablet. The configurator is available on almost every device!
Self-illuminating? Clearly!
BLICKFANG Messebau uses special walls for its exhibition stands, which are designed for the assembly of fabric or panels. The so-called OCTAlumina is also equipped with high-quality power LEDs. In the configurator , the walls are visualised accordingly thanks to a special shader. The rules and regulations are also used to automatically calculate the optimum illumination of the exhibition stand.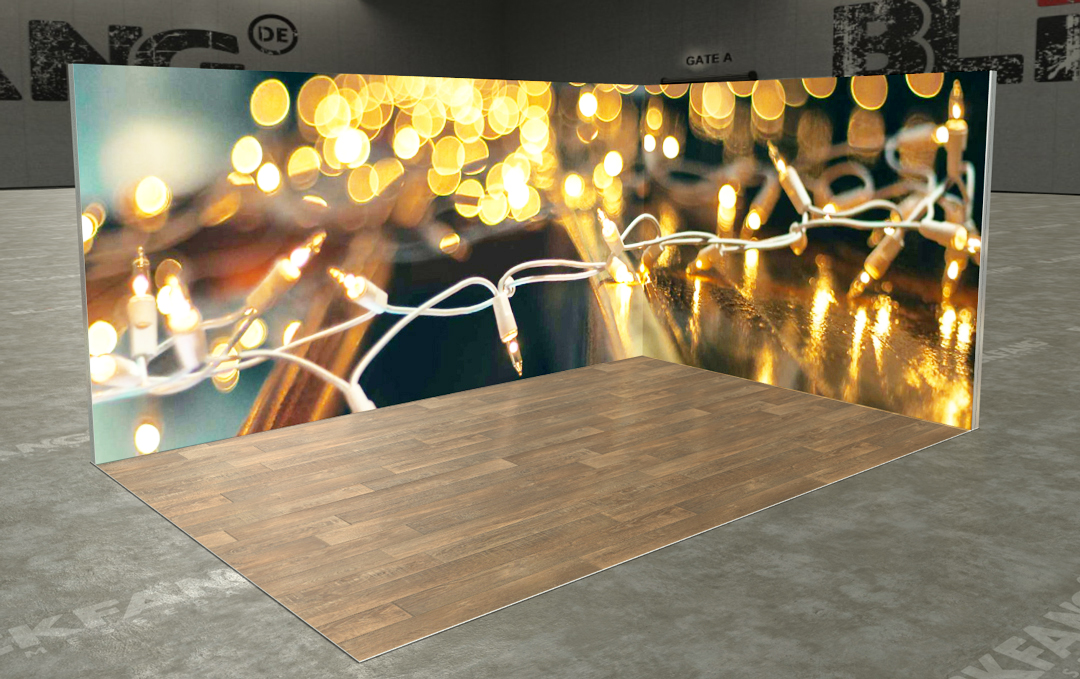 Individually customised - BLICKFANG exhibition stand configurator
Design your stand with your own pictures! Walls, cabins as well as the floor can be provided with your own graphics and positioned to your heart's content. Also, some furniture is available in different variations and can be individualised further with your own image material.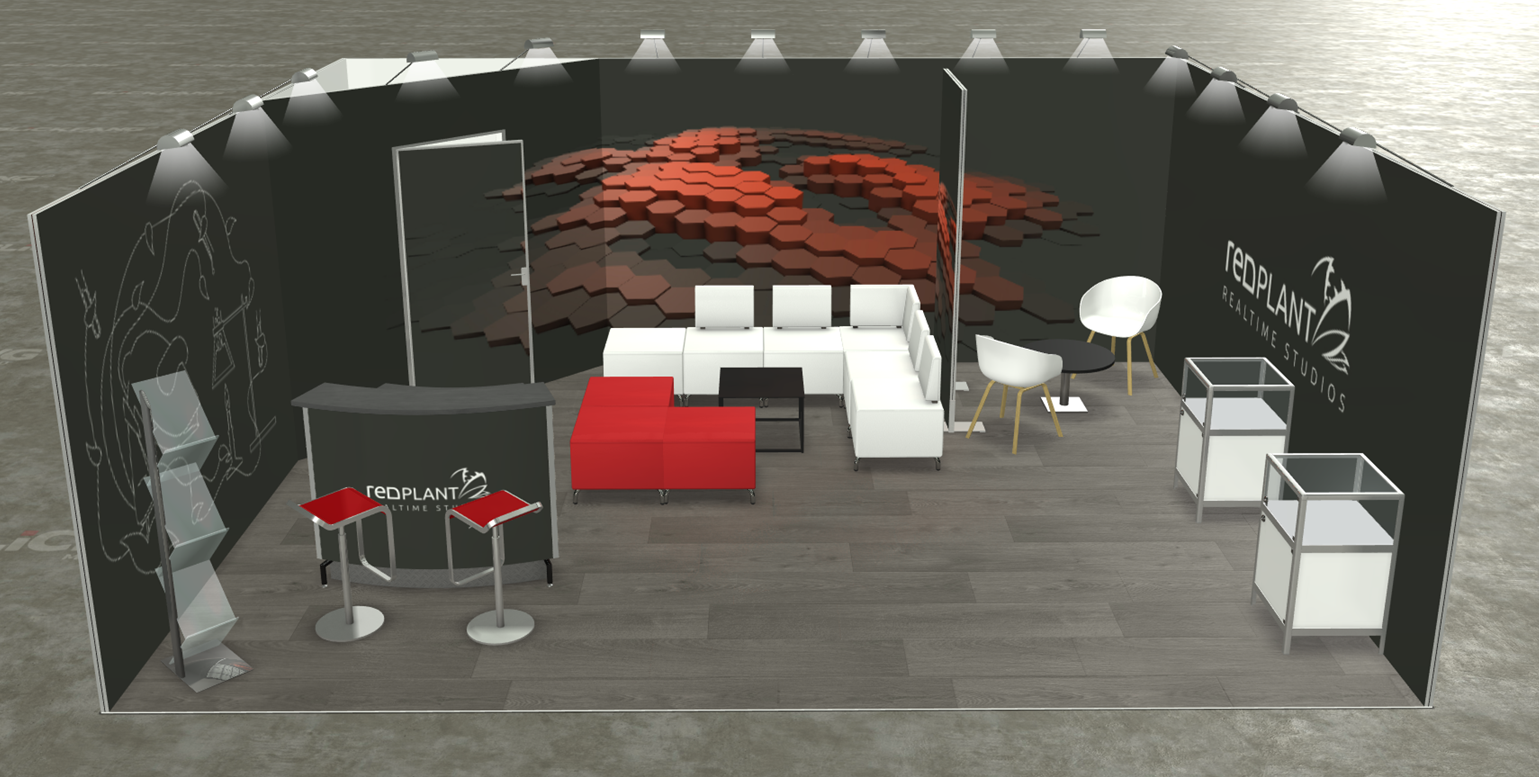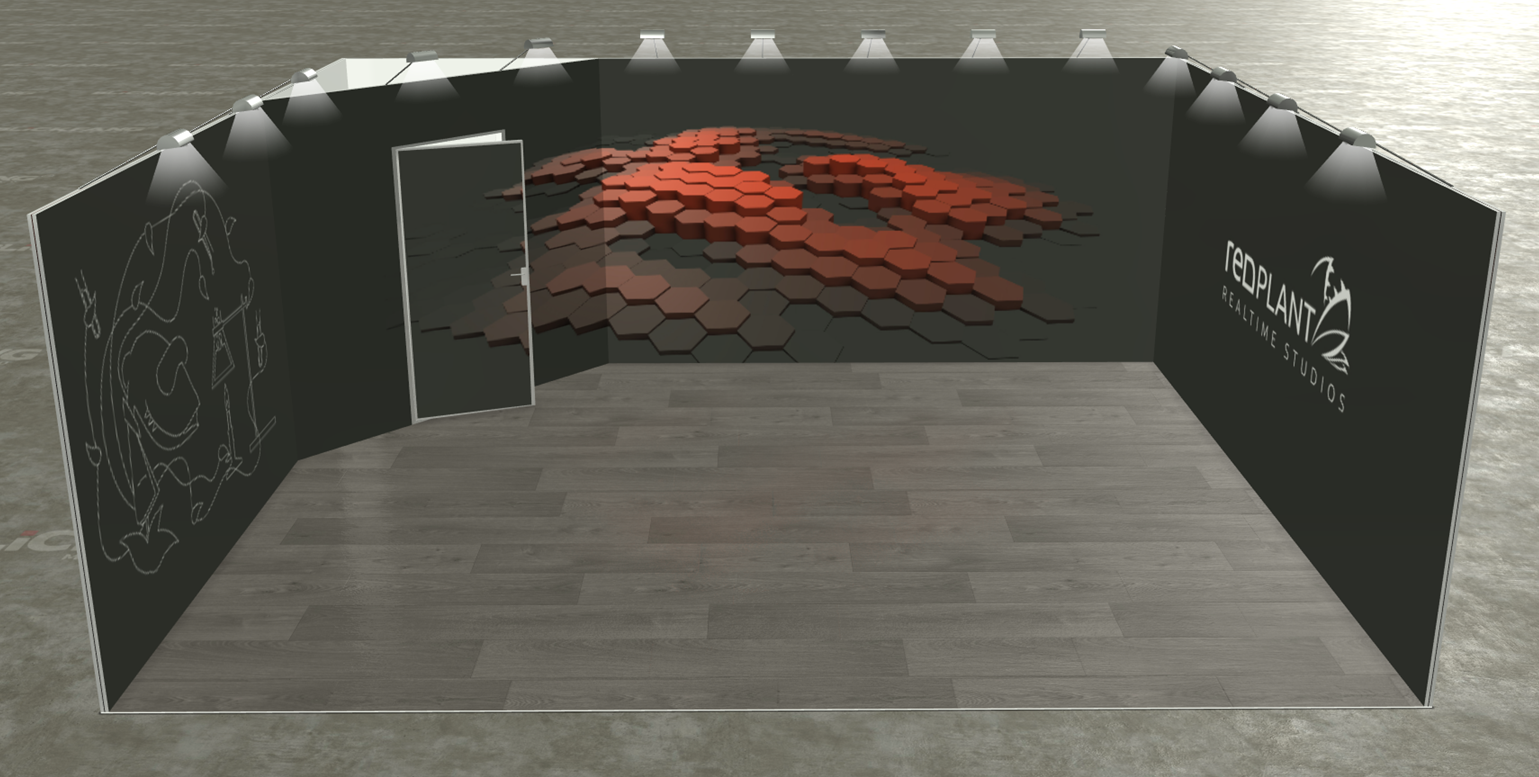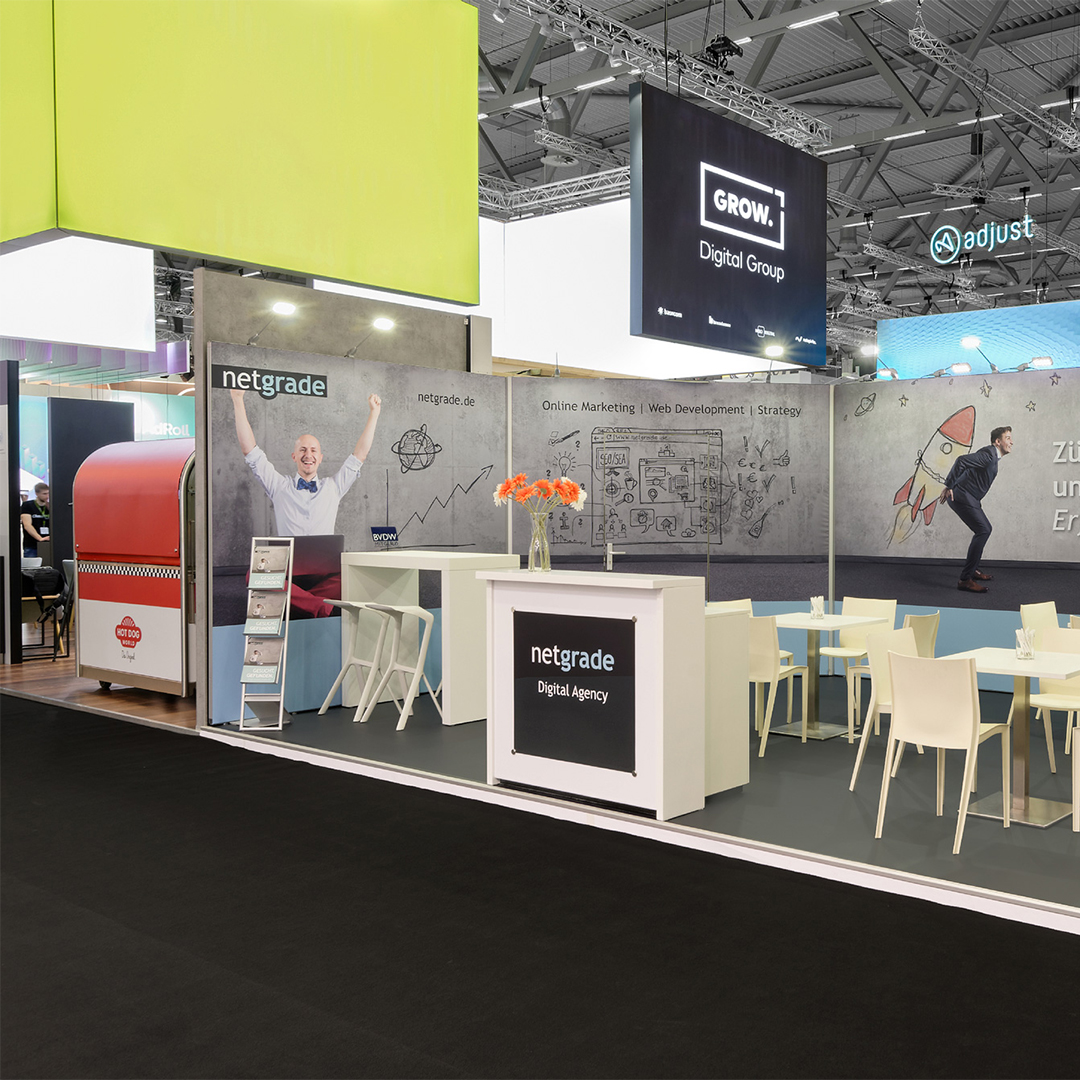 All good comes from above
To further highlight your stand by means of optimal long-distance effect, it is possible to design individual banners and place them freely on your stand since mid-2019. Like the exhibition walls, the banners can be covered with individual graphics and can also be configured in terms of size and position.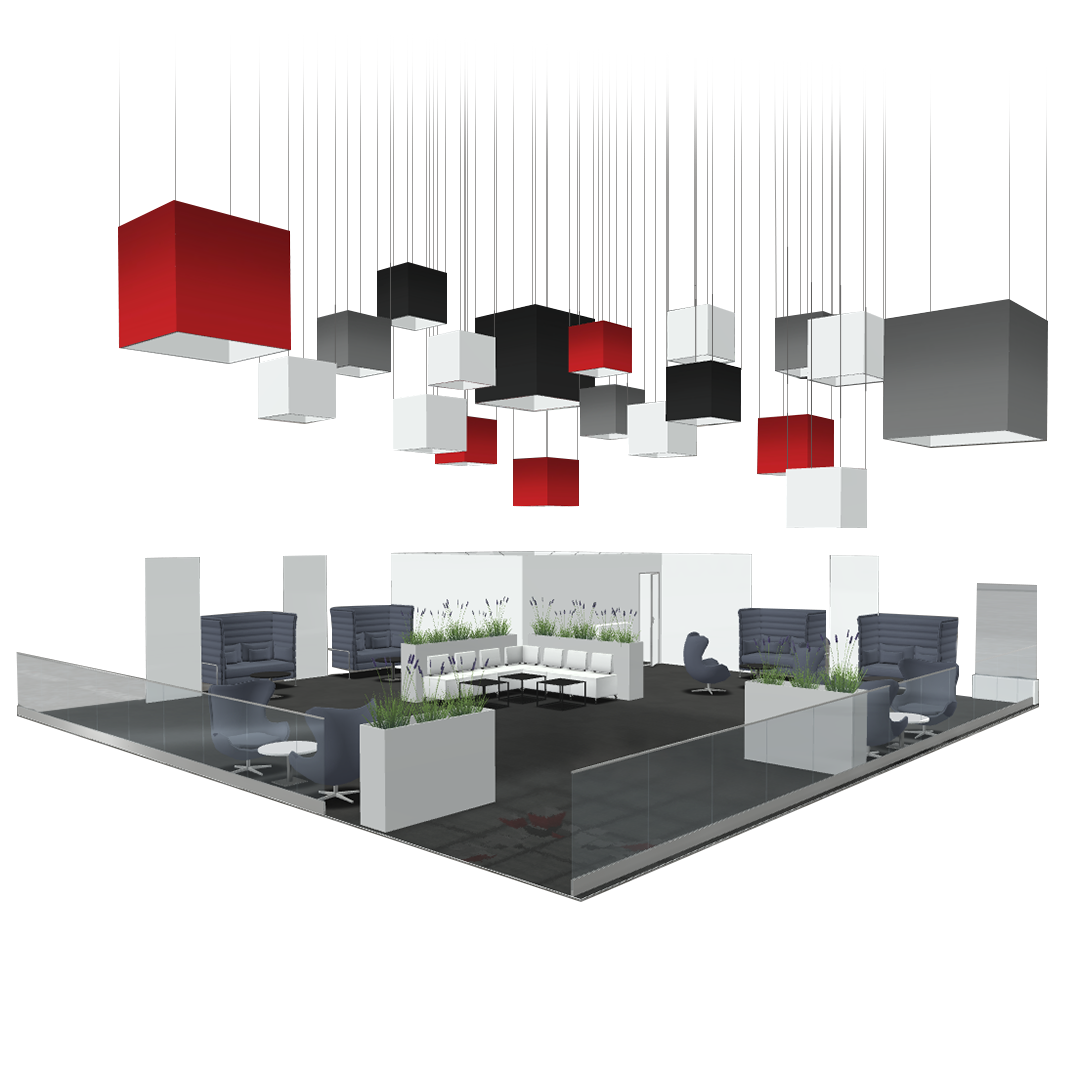 Banner Reloaded
In addition to constant usability optimizations, which should make the configuration easier for you, the placement and configuration of the banners was completely reworked in 2022. Analogous to the placement of furniture and modules, you can now easily position your desired banners on a special banner layer via drag & drop. For the design you can choose between single banner pages or entire banner cubes, which you can configure in their dimensions and heights. As usual, you can place graphics on all available pages.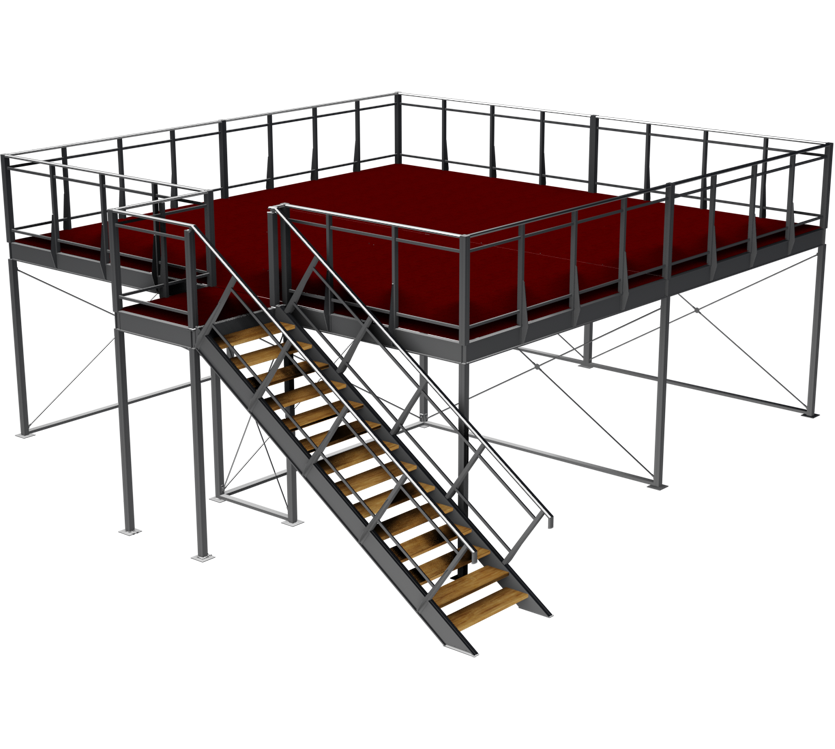 Stand space high 2
At the beginning of 2020, a true highlight was added to the configurator in the form of the double floors. The 2.5 meter high modules can be easily extended with additional add-on modules and thus easily double the stand space. So from now on you have the possibility to position and distribute your stand equipment on 2 floors.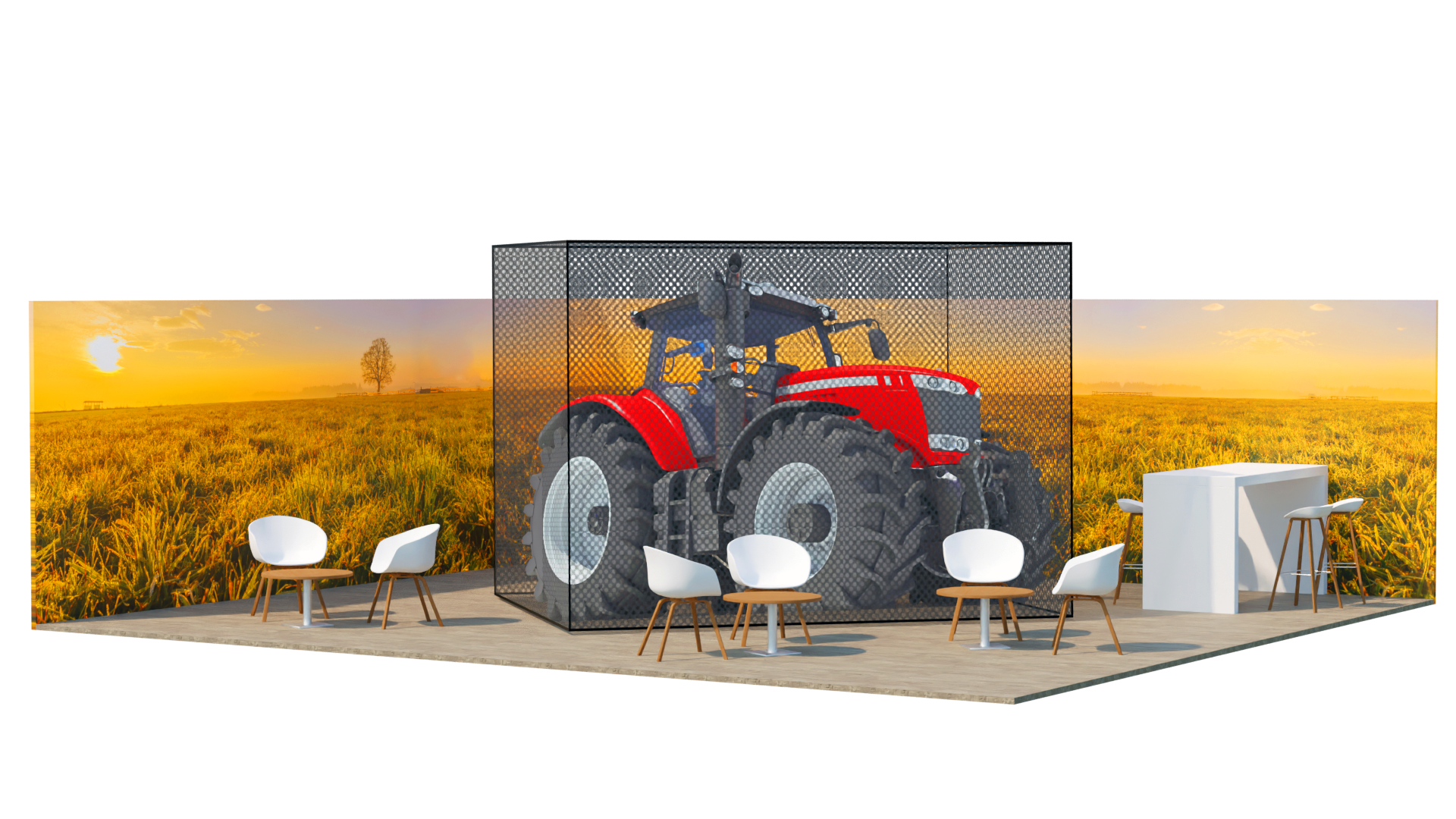 Your object of desire is not included?
The configurator is constantly being expanded with new furniture and equipment elements to ensure that no wishes remain unfulfilled. If your piece of furniture is still not included or you would like to position a completely individual exhibit at the trade show booth, you can make this possible since 2022 via placeholder objects. You can place them on your stand like furniture, adjust their dimensions and add graphics from all sides.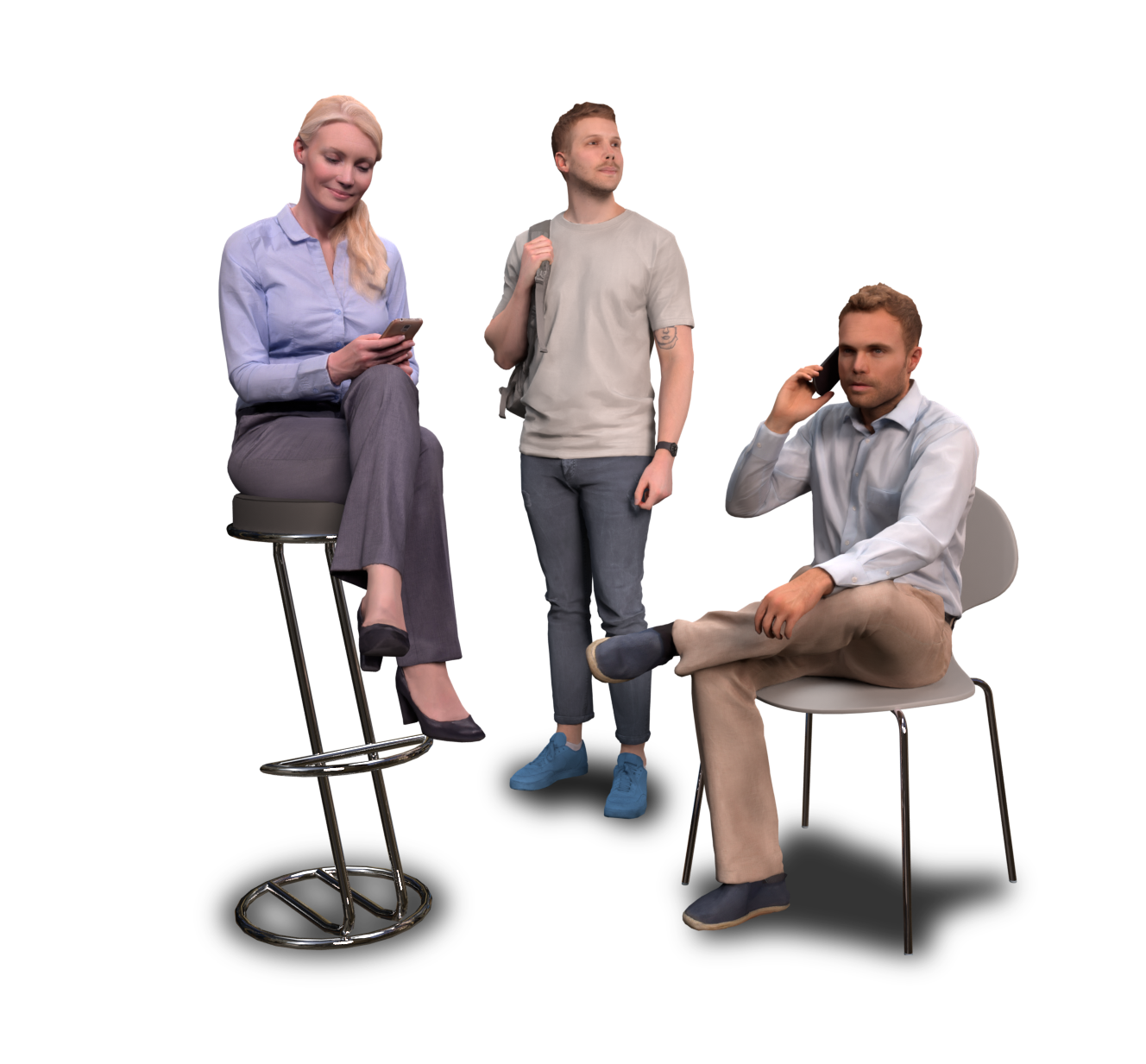 Wow,

visitors 

are 

already 

here



Would you like to breathe a little more life into your exhibition stand? Since 2022, you have the possibility to place visitors on your booth. You have different people in standing or sitting positions – for bar stools and normal chair heights – at your disposal. If it is too colorful for you, you can also simply display the visitors in plain gray tones. Since your booth is the center of attention, you will find the people under the Placeholders category. 
Light Theme vs. Dark Theme
If every computer program already offers a light and dark theme, Blickfang thought, why not our configurator as well. Since 2022, you can switch between different hall environments. The standard environment has been extended by a stylish light and dark hall as well as a hall in concrete look, between which you can switch as you like.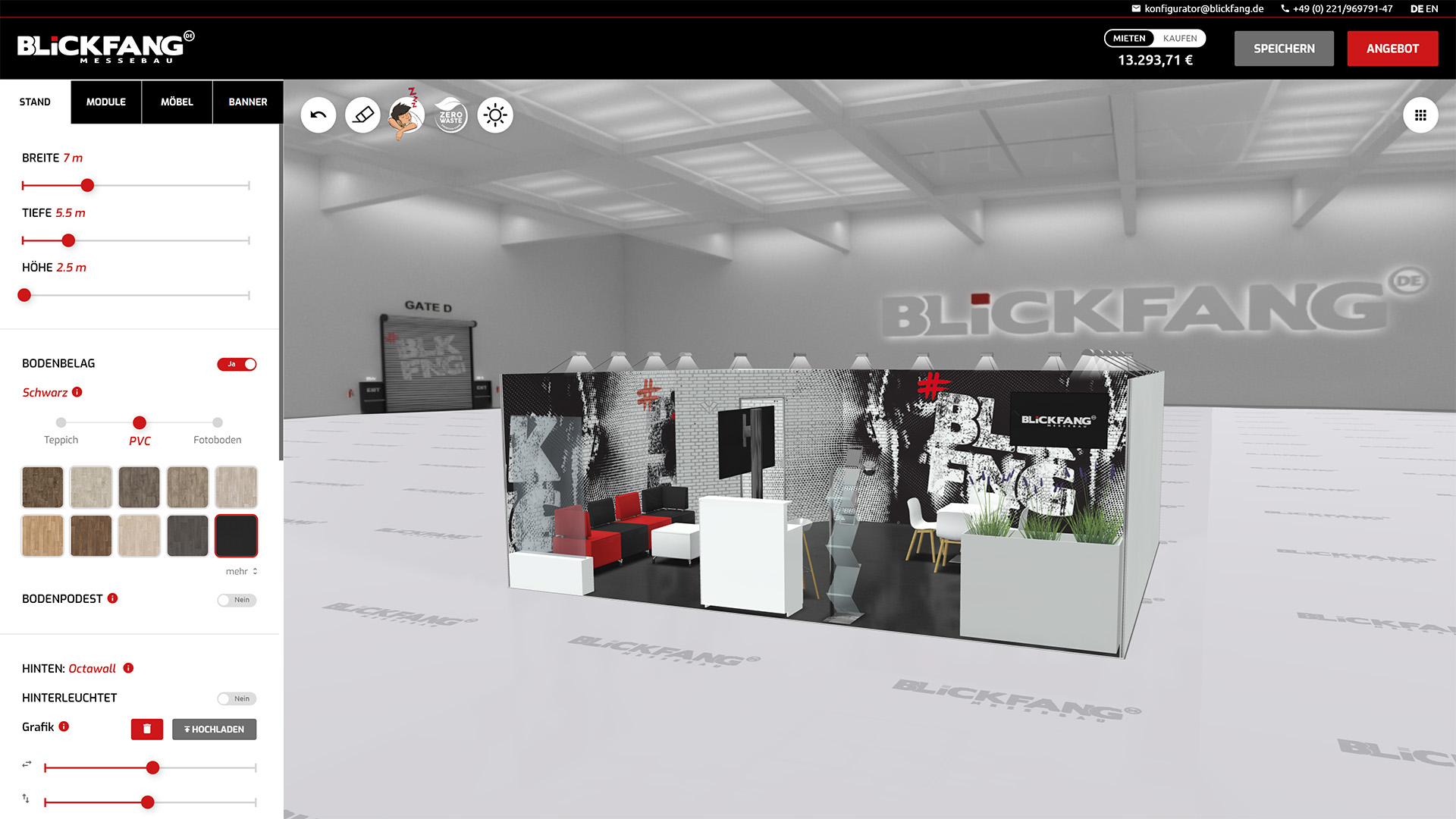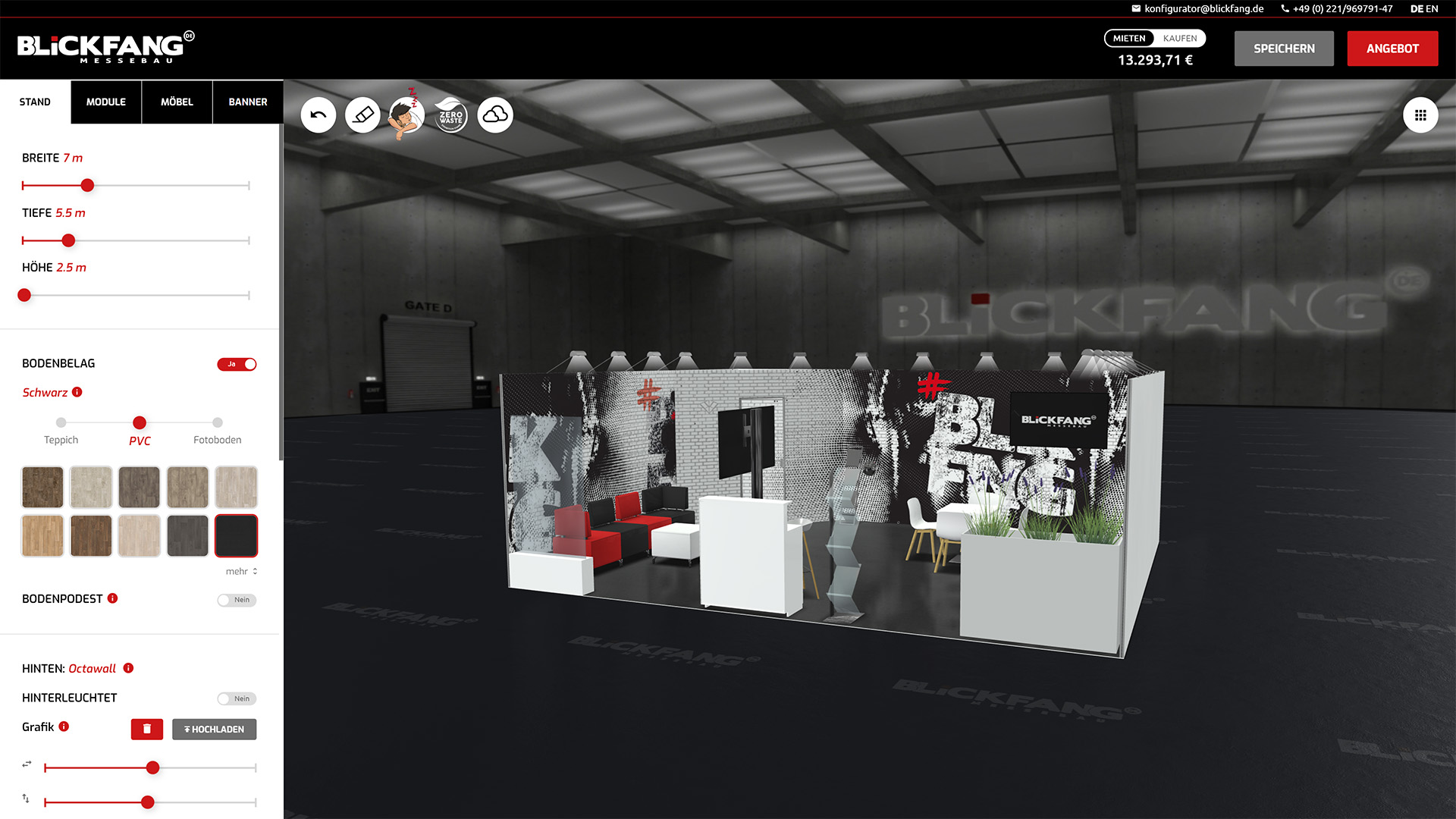 Always keep an eye on costs!
Build your personalized booth according to your budget! The total price is calculated with every change in realtime and displayed clearly. Would you like to rent the stand for a certain period or would you prefer to purchase it right away? Choose between one of the two options, the price adjusts accordingly.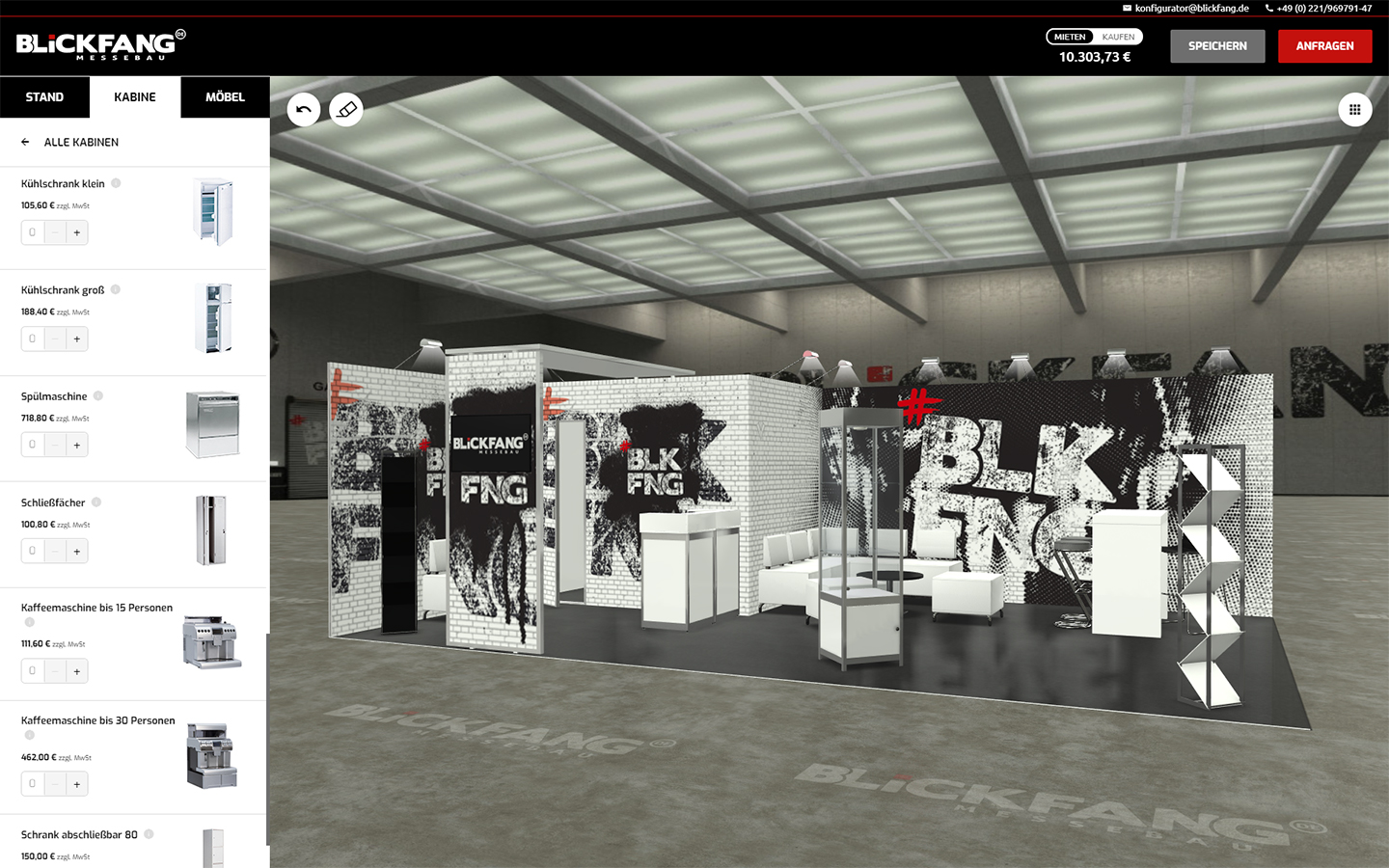 Know the costs!

With prices of all optional items.

Made a mistake?

You can undo your steps or switch to an empty stand.

Rent or Buy

The price always adjusts in realtime!

More options

With a simple click.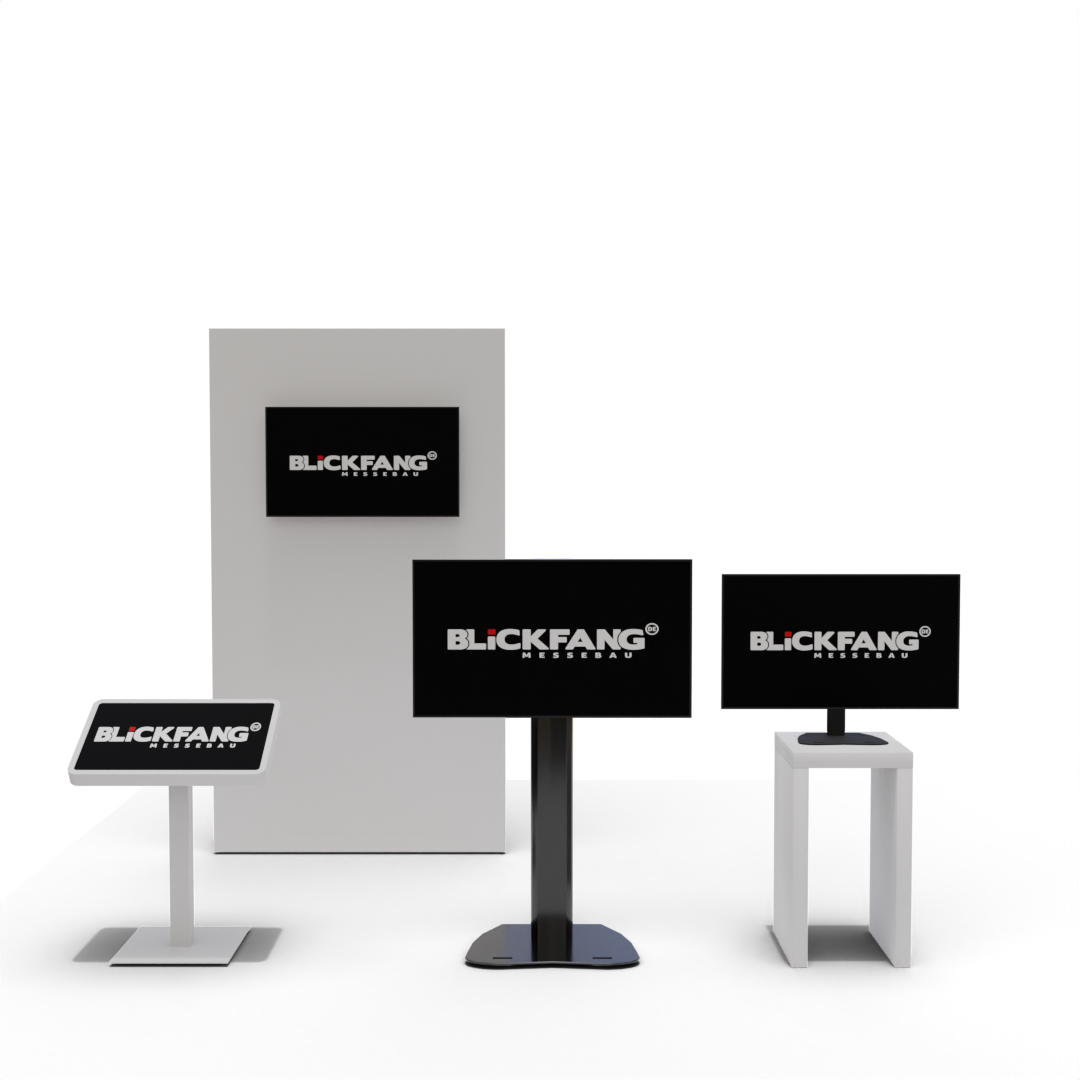 Showtime!
Digitization is advancing and so is the need to present digital advertising materials. For this purpose, various technical equipment was integrated into the configurator in 2022. These can be placed on the booth like furniture by drag & drop. You can choose between displays on stands or special tables as well as freely movable monitors that can be attached to the walls.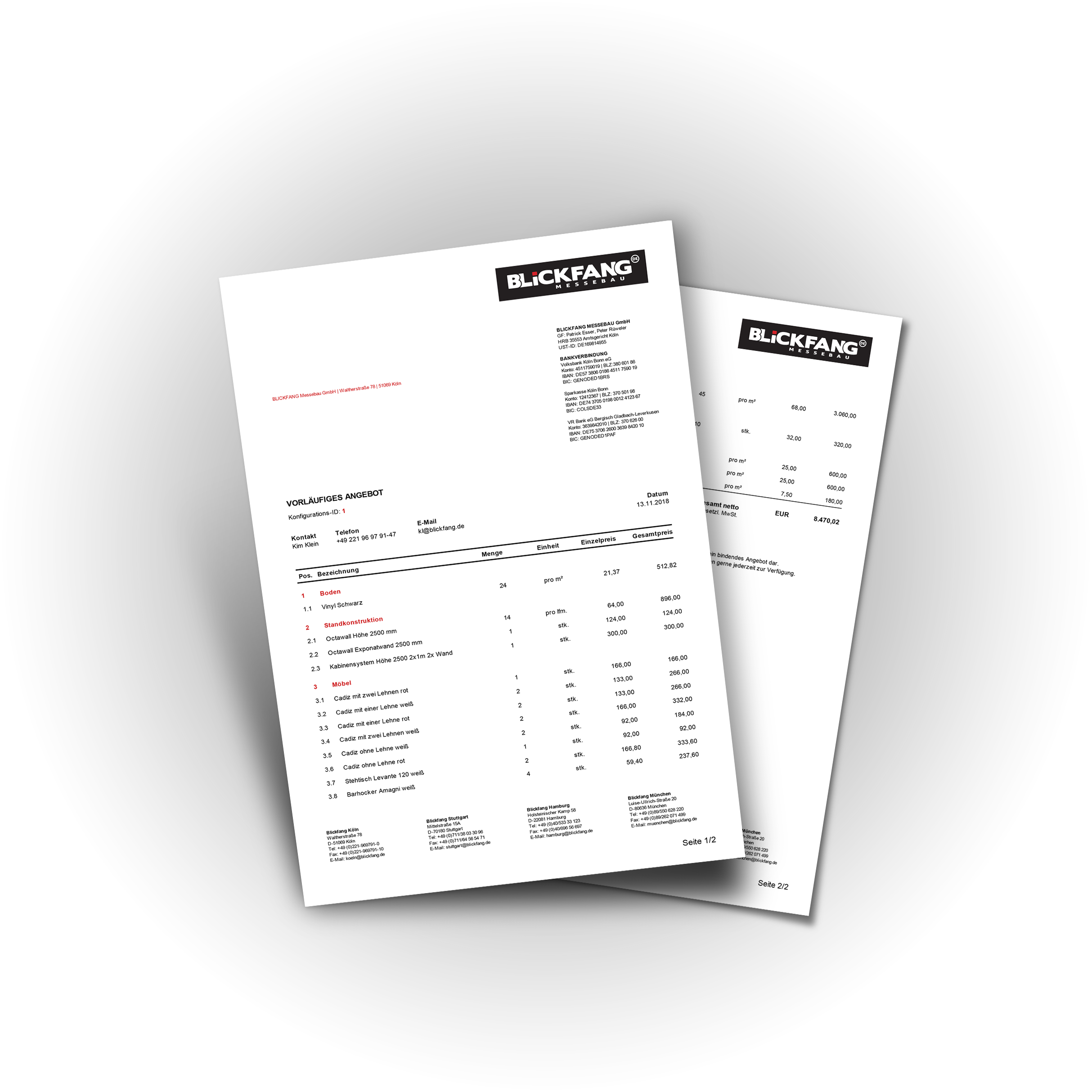 Everything at a glance
The integrated e-commerce process automatically generates an offer and design concept for the individual trade fair stand and sends it by e-mail. In addition to the total price, this offer contains the parts list including individual prices as well as the configuration ID so that the configuration can be called up again at any time. The integration of the Google Location & Places API also calculates and lists the exact logistics and assembly costs.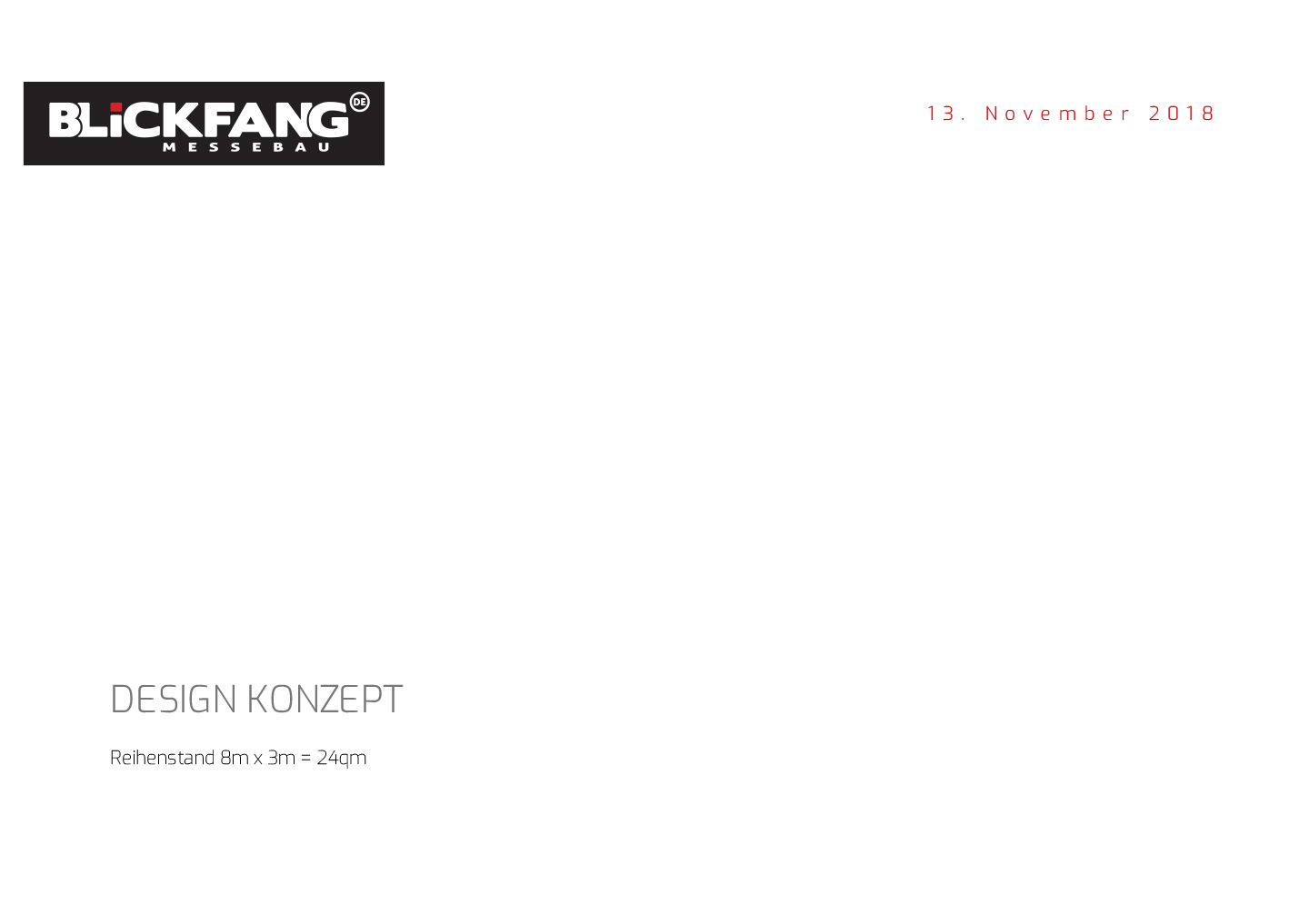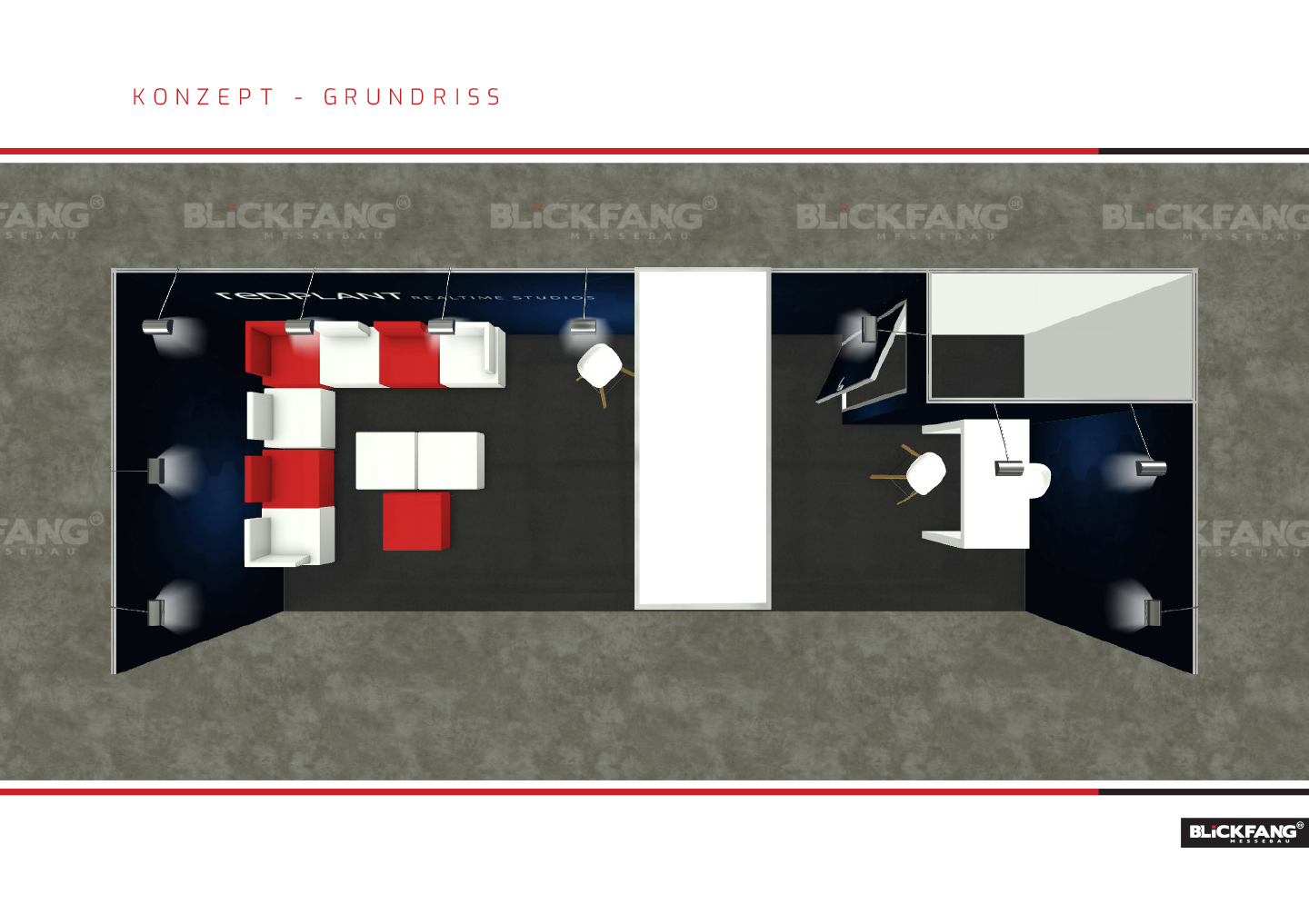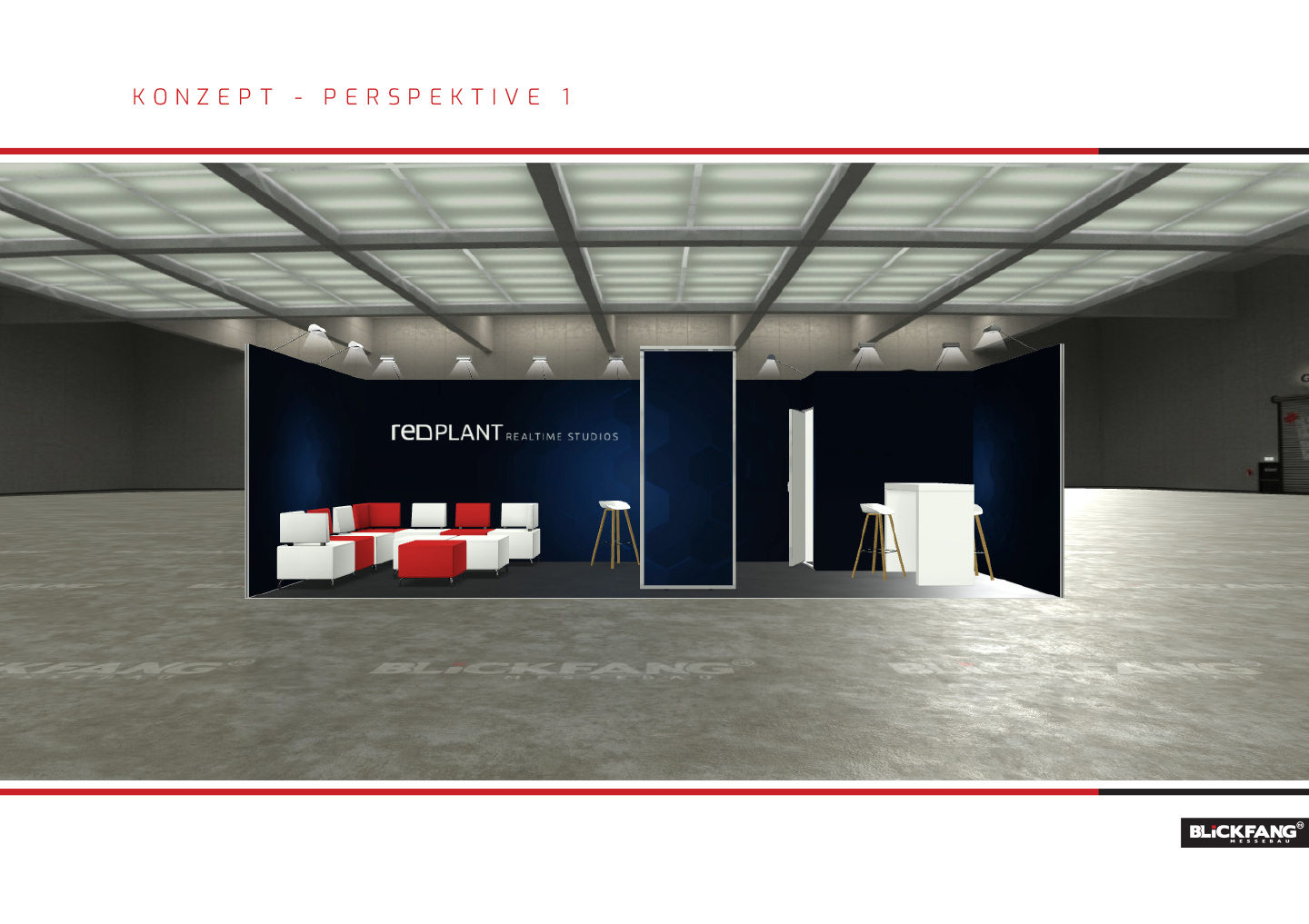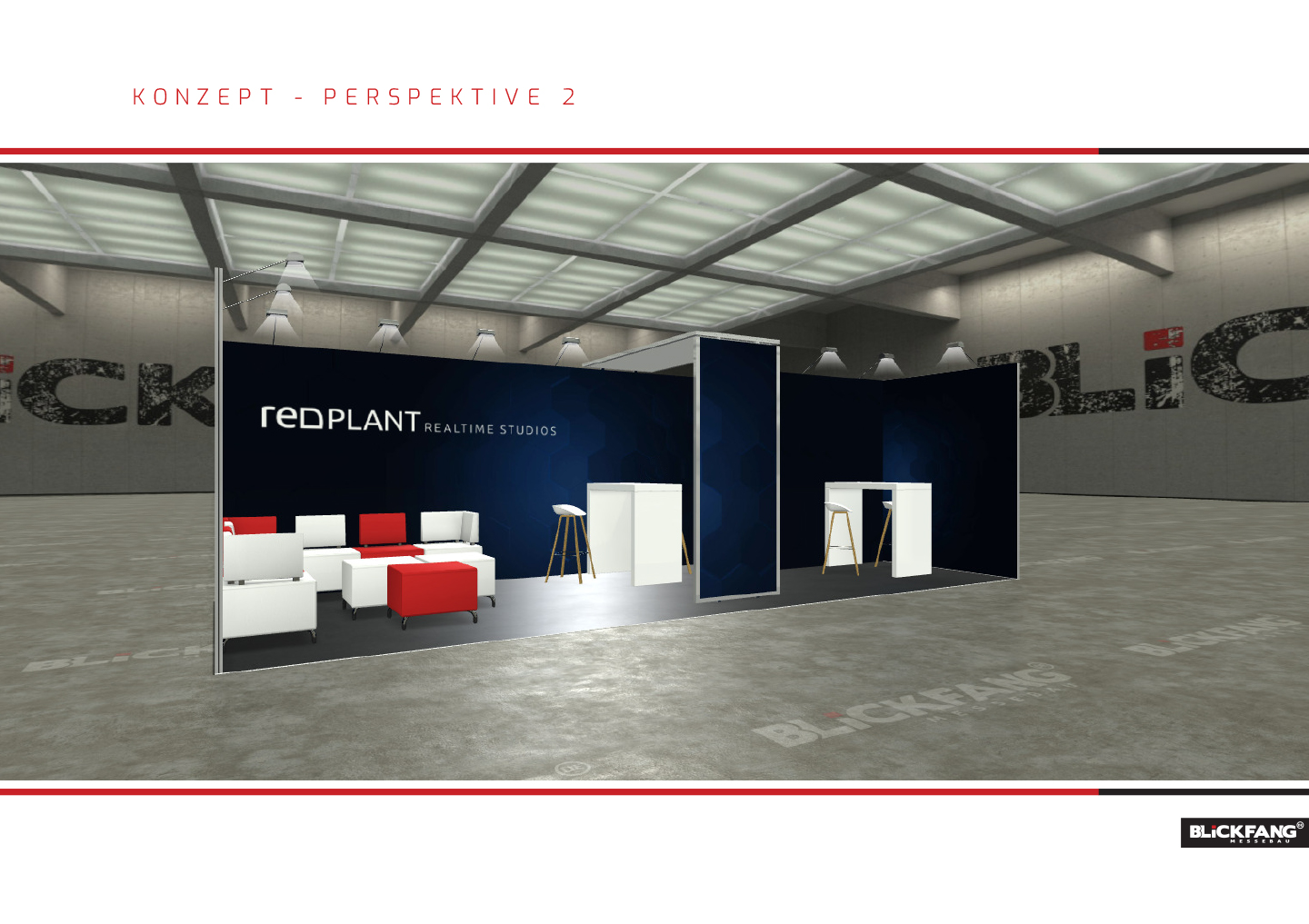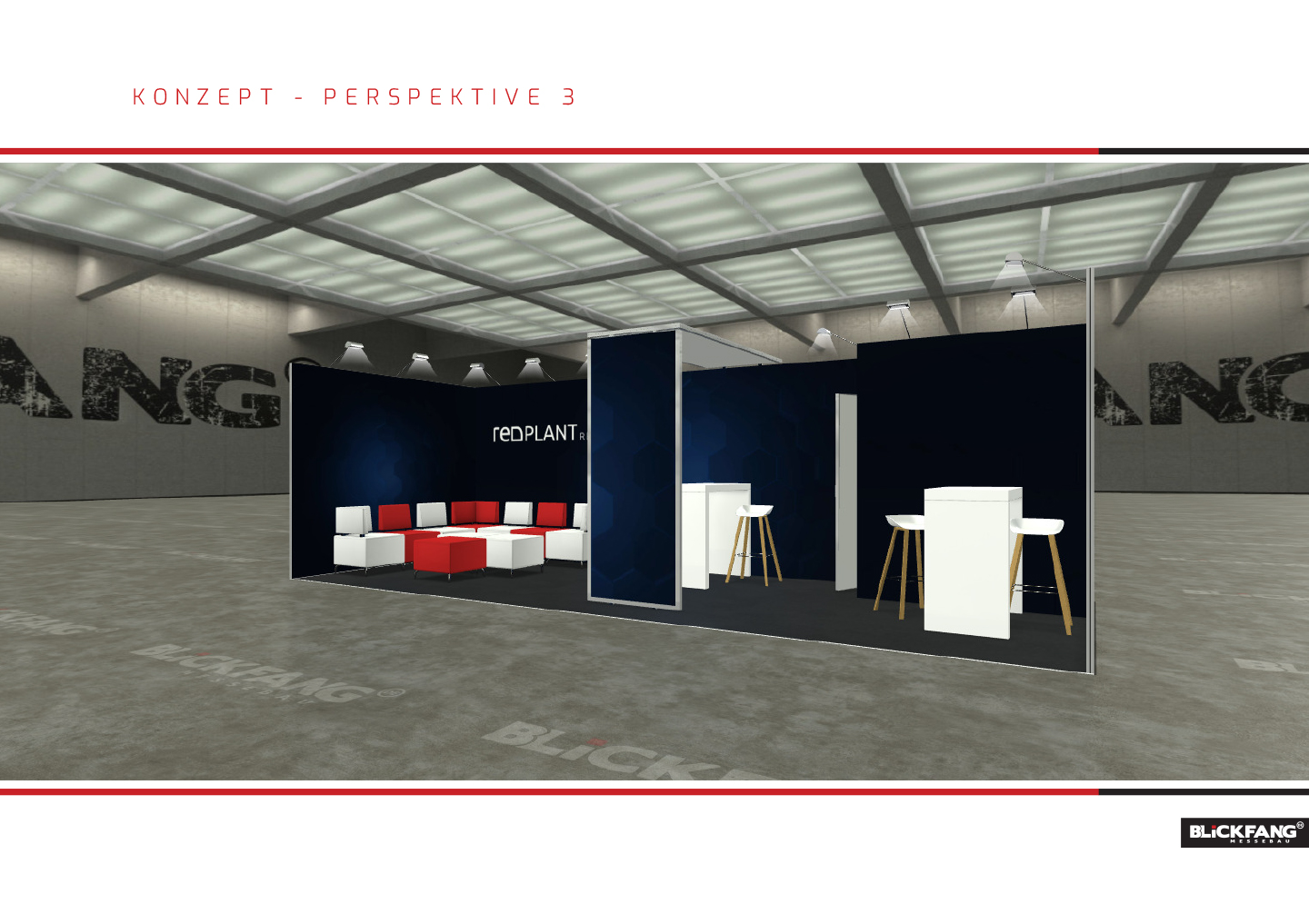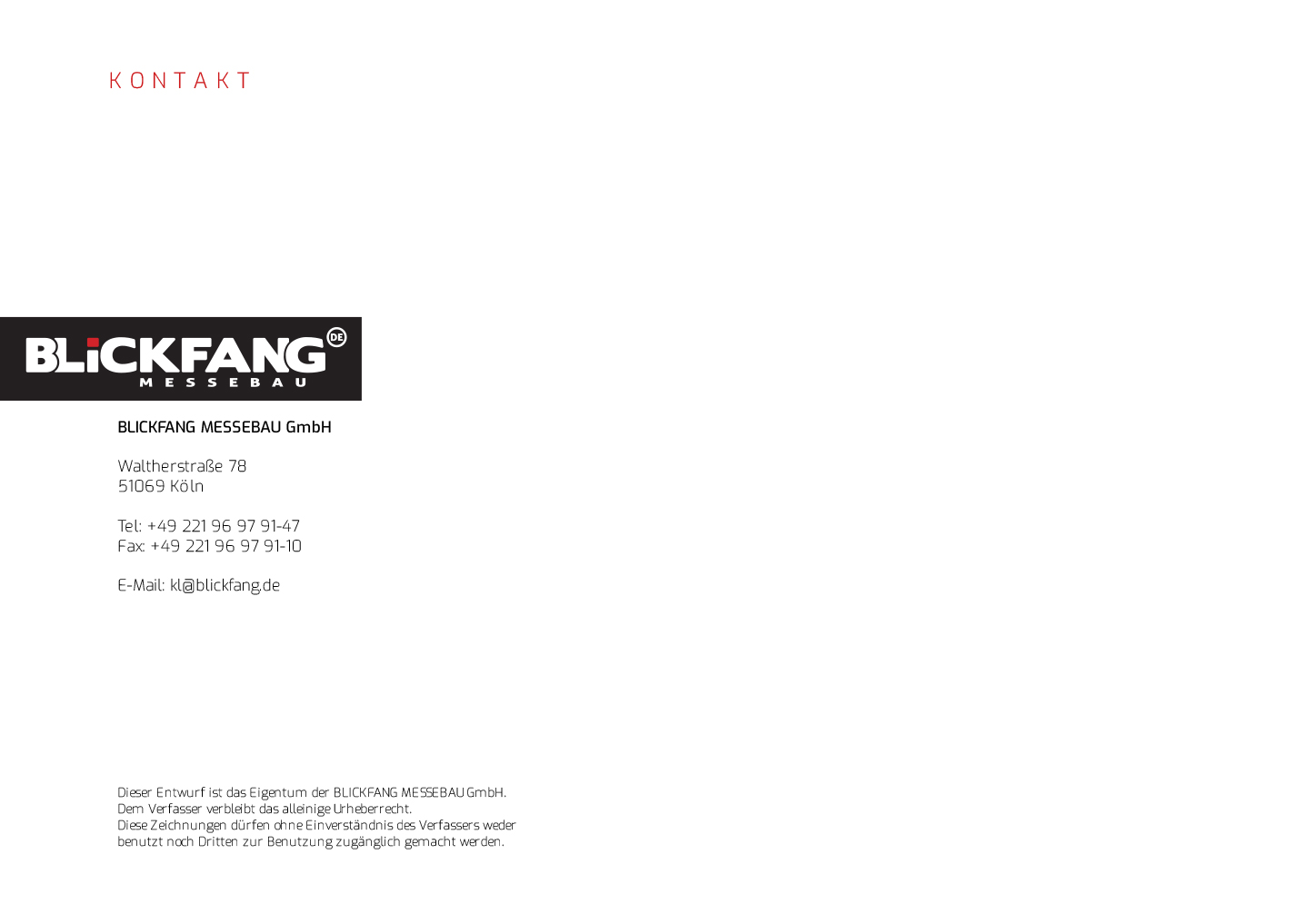 Try it out!
You want to play through a different composition of your furniture, but don't want to start from scratch? With the reset button you can remove all your furniture with just one click. The good thing about it is that individual wall graphics, carpets and stand dimensions are retained. Is the configuration a bit off? Then simply use the Undo button and go back a few steps.
Zero waste 
Blickfang exhibition stands have always been largely recyclable or reusable. By integrating 10 new zero waste floor coverings, you can configure completely environmentally friendly and sustainable exhibition stands since the beginning of 2020. This has not only increased the scale of the exhibition stands that can be individually configured, but also set a whole new standard in terms of sustainability.
Reflection Probe
This sphere provides realistic reflections on all surfaces. It acts as a kind of camera and automatically creates a 360° image of the surroundings, a so-called Environment Map. Each time the stand is changed, the Reflection Probe creates a new 360° image and makes it dynamically available to the materials.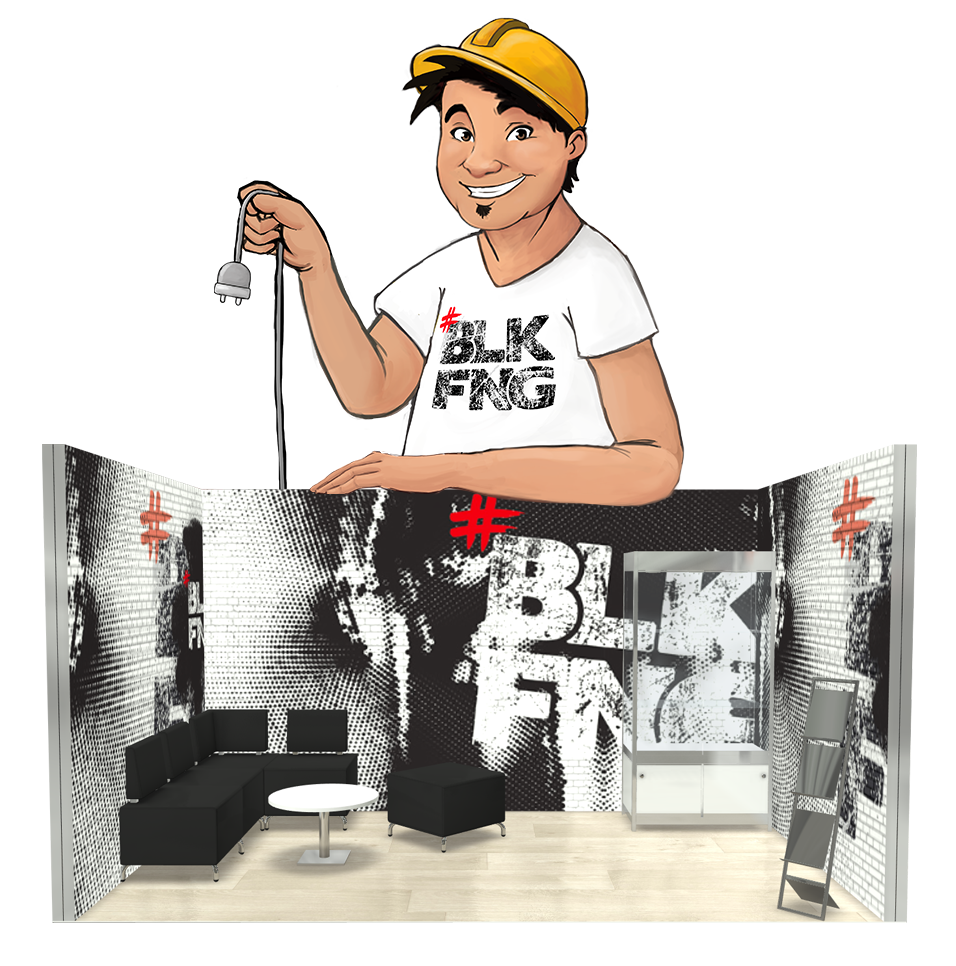 Houston, we have a problem
Houston is your digital assistant, providing tips and tricks for the configuration of your stand. If you don't need any tips, you can send Houston home for the day. With just one click, he will come back at any time.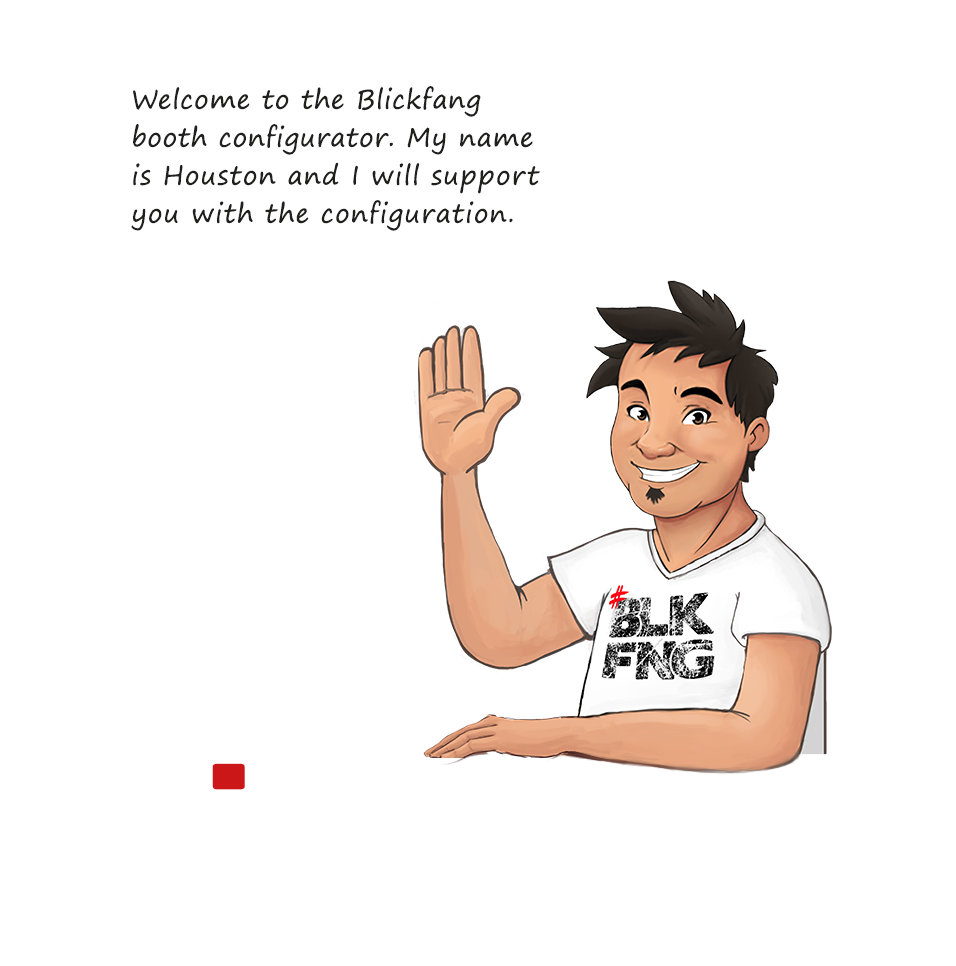 Configure now
Um noch mehr potentielle Kunden zu erreichen, gab es im Jahr 2019 noch ein weiteres großes Update. Neben dem deutschsprachigen Konfigurator wurde nun auch eine englischsprachige Version des Konfigurators veröffentlicht.
The configurator has been implemented in WebGL and is available on all common browsers without plugins.
The configurator is available on smartphone, tablets and desktop PCs thanks to its responsive design.
Each configuration is assigned an individual ID and can be retrieved again at any time.
With each change of the configuration the price is recalculated and displayed clearly.
Function for uploading your own graphics for a custom-designed exhibition stand.
Integration of the Google Location & Places API for the exact calculation of logistics and installation costs.
When sending an inquiry to Blickfang, an individual offer and concept are created immediately.
The BLICKFANG product range, including the associated configuration logic, has been integrated into the 3D Realtime Configurator.
Problemlos erweiterbar
Neue Möbel oder Bodenbeläge? Restriktionen aufheben oder erweitern? Neue Produkte integrieren oder Preise ändern? Kein Problem! Dank der initial definierten Workflows ist dies problemlos möglich und der Konfigurator immer up to date.